On-one 456 Ti (titanium) review
I decided I wanted a trail hardtail as an alternate ride experience to the Trek EX9. After some research I decided on the titanium On-One 456 as it had great reviews and it looked good (yes I am that shallow).
The Lynksy-made Ti is no longer in production and after months of looking I never saw a large one come up on ebay so I took the plunge and put in an order for the first of the new design Van Nicholas made frames.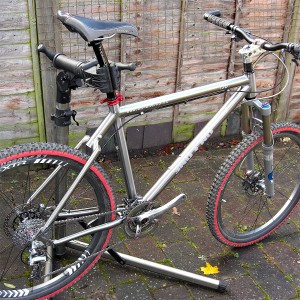 In October my shiny new 20" frame arrived and it went to Mark at BikeTech to be built up. It was built up from a 2006 Stumpjumper Pro I bought a year earlier. New bits were a Hope tapered headset and Fox Float 140mm forks.
From the Pro came a full 2006 XTR groupset (hubs, wheels, cranks, pedals, brakes, gears) and 'unusual' xlite stem. The complate bike weighs in at between 23-24 pounds. Other tech bits are that it has swap dropouts so can be run as a singlespeed or with a bolt through axle.
Much like food, enjoyment is as much in the appearance as the taste. The On-One looks fantastic with its brushed titanium tubes. The joins are very clean and neat; it is a beautiful and beautifully made bike. So far so good.
I am a long limbed 6'3 and the 20" frame with a layback seatpost is just perfect for comfortable long rides.
So what is it like to ride? Well given its light weight it is surprisingly better going down than up. While it is certainly a very good climber given its weight, with a slack head angle and long travel forks it is not a race machine. However, downhill it is simply amazing.
I do not know how it does it but it feels like a FS bike downhill, so well does it stick to the trail. It is very stable and holds the line well and when it does get bumped or knocked the reactions are very light and fast. I feel more in control at speed downhill than on the EX9, which itself is very, very good.
I have ridden most of the local trails on both bikes and cannot think of any places where I would favour the EX over the 456 and if I could choose just one bike to keep it would be the On-One 456 Ti without any reservation (although I am lucky not to have to choose).
It is very versatile, you could put 80 or 100mm XC forks and with a high end groupset and race wheels you would have a superlight race machine, but with 140-160mm forks and a hardier group and wheelset you have a rugged trail bike, and all flavours inbetween.
I am sure the professionals will be testing it soon and I look forward to seeing what they think, but for me it is all the bike I need (but not necessarily want!)