Onethelite P7 LED bike light review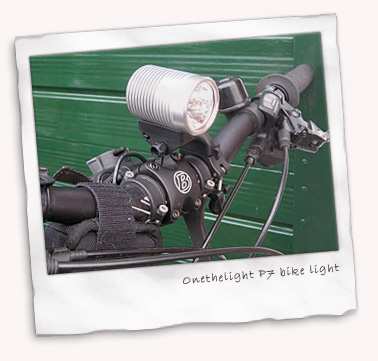 As my old front light got smashed while deer jousting, I thought that rather than replace with another 'be seen' type of light I might as well get something that would also enable me to try night riding at some point.
I made the following decisions:
Budget £100 for an entry level off-road light to see how I get on.Although buying from Asia is cheaper, delivery can take longer and what happens if something goes wrong and you need to deal with and wait for replacements from the Far East? It is my observation from reading internet forums that some people do have these problems and I put them down to inconsistent manufacturing and/or a lack of QC.
Buy from a UK company, this is to get; a UK quality check (I am sure that Spokeshirts, for example, are not alone in checking every light thoroughly before they go out the door), a 3pin charger and an easier warranty, but accepting I would be paying about £30 more than from the Far East.
There were two main contenders, the Magicshine MJ808 at £92 or the Onethelite (same head unit as the Magicshine MJ836) at £99, prices include delivery.
I decided on the Onethelite bike light from Spokeshirts. I assumed that most of the P7 lights would give similar output, so my selection was based upon; I liked the look of the light, an inclusive helmet mount, and delivery. You know how it is, once you make the decision you want it now!
So 18 hours after ordering, the Onethelite arrived. The light looked as good as in the pictures and the fins can only help heat dissipation, the battery is well sealed and the handlebar mount is adjustable and looks sturdy.
There is about 4 feet of cable available between the light unit, a small extension lead, and the battery itself. All the connections are really tight and well sealed so this will be fine in the rain. The light has 3 settings; off, high and medium, circulated through by pressing one large button on the back.
After fully charging I then went on a test ride. I decided to take in a 7 mile loop that I thought would be a good test for any lights. It included;
A rough and narrow downhill bridleway path. This bridleway would be a key test, it is the bumpiest piece of trail that I know of, with a bed of loose hardcore and flint in places. A good test of stability, you need to take care down this path even in daylight.
A rather undulating minor road-bridleway-footpath section.
Two woodland trails, one of which has a nice downhill section that is quite twisty, and in the daytime – fast.
Due to having a Satmap bracket on the cross stem I decided to wrap the battery around the handlebar, which held perfectly. The light bracket also held firm, no discernible shaking while riding, even on the bumpy descent, and I liked having the light in the middle of the bars.
If you have a GPS and prefer the light off centre, well just move the bracket or use one of those bar extension things. There are a couple reports questioning the quality of the bracket, but not from myself, I think the bracket is a very good design.
The Onethelite beam has a fairly large hotspot, so I am sure others may be brighter but the flood was very even almost up to the edges. Clearly this light has a good reflector for XC riding. The only area I could question the light was on a downhill twisty run through the woods to get home, but I think that is more to do with requiring a helmet light to point where you are looking and filling the parts of trail the bars are not pointing at.
It was also made harder by the time of year, autumn leaves covering, and hence hiding, the usually clear path with the surrounding area.
I kept the light on full beam the whole time, and there were no problems from oncoming drivers (well, no-one flashed me) although I did spook a runner. As a nice bonus my neighbour who had driven along the valley earlier said he saw me clearly, so that is a nice safety feature for road riding.
Lastly whenever I stopped I touch the light to check the temperature of the casing and it was always cold, which was surely helped by the cold air, but good nonetheless.
Summary of the Onethelite bike light
Bear in mind this is my first experience of a 'proper' off road night light, I think the Onethelite fits the bill well. It provides you with a light that will enable you to safely go riding XC after dark, on and off road, and if you want to get a bit more serious then it makes a perfect companion to a helmet light. What I intend to try another time is to test it as a helmet light. Excellent value at under £100.
Finally, a few thoughts on night riding
Off I go into the night, the moon and stars – like Orion and the Plough (or saucepan as my daughter calls it) shining brightly; I am hooked. I would not want to go out in the rain, but a frosty evening… now try and stop me.
As I climb through the woods wondering if the shadows are mine or wildlife, my chest starts pounding. Am I just getting very nervous ? No… I am knackered. I looked at my watch and realised I was half way a good 10 minutes ahead a schedule. No light means I do not know what gear I am in, and I have no feeling of speed.
I climbed that hill using the large cog! Takes note, put chain on the middle cog and leave the left lever alone, LOL. I love the different perspective you get just by riding at night.