I had an itch that has never gone away to own a titanium frame. I've owned carbon, steel, ali, but never ti.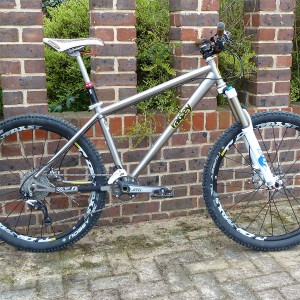 In a Jedward inspired way, a riding friend purchased a Ragley Ti from Nirvana and I decided to double up the order and purchase one as well – thank you to Nirvana for a great price on the back of this double order.
I had short listed the On-One 456 – albeit trying to source a used Lynskey built frame, rather than the new model. On the On-One frame I like the dekerf inspired chainstays of the original design. Despite offering top money, I couldn't get anyone to part with their's. I looked at Lynskey frames, but wanted something to take a long fork.
I considered, very seriously, a Brodie Holeshot imported via Progessivebikes, that is a nice looking frame. I looked at Kingdom bikes – the Foia – again another nice looking long travel ti frame. The Ragley came a bit out of no where and was inspired by my friend purchasing the frame and knowing we could achieve a good price for us both if we purchased another.
With a lightweight build in mind I've gone for 1×10 XTR gearing, Fox Float forks (140mm), Crossmax ST wheels and Nobby Nic tyres (2.25″). The only thing I couldn't live without these days is a dropper post (Pure Racing i900 going v.cheap c/o Nirvana). Build is just a smidge under 24lbs which seems an excellent weight to have achieved. I am 5ft 11″ and the small 16″ frame size fits really well, giving me a jump bike type stand over height when I put the saddle right down, but still giving a good sized top tube for XC riding.
My first ride was a very wet Sunday around Holmbury and Pitch, with a set of Panaracer Fire XC Pro tyres being seriously overcome by the swamp that was the North Downs on this morning. It was hard to form any opinions about the bike.
I have since got out in dry conditions (at last some decent weather) and this bike rocks. Its encouraged ladder drops, hitting jumps as fast as the 1×10 gearing will allow and general hooligan behaviour unbecoming of a ti frame. I suspect its down to the angles – the frame gives endless confidence, you find you are having 2 wheel drifts and staying with your feet on the pedals.
The bike works best by really thrashing it. Ridden slowly the ti frame doesn't immediately make its "springy" nature felt, which I suspect means this is quite a stiff ti frame (think Cove Hummer stylie), once your up to a decent speed it's then that the vibration damping qualities of the ti material become apparent. My last hardtail was a steel Genesis alpitude (853 reynolds tubing – was a lovely frame), this was a really soft steel frame, more so than my previous 2 Dialled Bike PA's. The Ragley feels at first stiffer but does come good with speed and take the edge off tree roots and quick type stutter bumps.
The bike loves the jumps, feeling stable in the air, soft on landings and so light you can throw some shapes in while airborne. Its got some nice touches to the frame, you have bridgeless chainstays, other than a small V shaped wedge detail right up at the seat tube interface.
The bolt on cable guides, while first fearing they looked pants, have now grown on me for their efficient design, you can literally place them where you want. I have splashed on ti bolts to cover the vacant bosses to keep the frame looking tidy.
As my first ti purchase I can't say enough good things about the Ragley. Strangely I test rode an Mmmbop when Ragley first brought that to the market and didn't get on with it, its steep seat angle felt strange, the oversized headtube felt unnecessary and the ali frame battered you senseless.
The ti frame is the same angles (albeit the test bike I rode was an 18″), yet for the ti frame it works perfectly – not sure what you can conclude from this observation, perhaps I am fickle and prone to changing my mind!
This is a bike frame to take by the scruff of the neck, weight the front wheel, ignore what the back wheel does and just point it where you want to go, an aggressive ride style seems to best suit this frame.