Review: C&B Seen 1200 lumen light package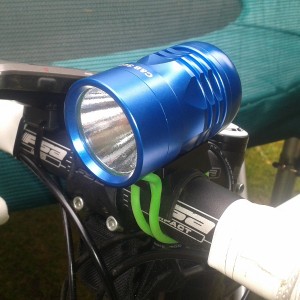 Since early 2008 I have been served, rather faithfully, by a pair of Ay Up MTB lights. These have been brilliant. Compact, bomb proof, fantastic battery life and, back in the day, damn good value too.  Never the brightest though, so by today's standards they are simply swamped by the floodlights that adorn various Moles' bikes.
Whilst the Ay Ups won't be completely put out to pasture (I still like a low profile helmet mounted light), I was in need of something a little more illuminating at bar level.
My world is a very different place from the free spending days of 2008 and so the criteria was quite simple really. A cheap, bright, reliable light that won't fall apart after a few rides. What with sites like DealExtreme and the various Chinese lights that are available I knew I could meet the cheap criteria quite easily, but the pay-off tends to be fairly lengthy delivery times. I also considered the upgrade service offered by Ay Up themselves, but they look to have discontinued this offering. It was the weekly check on Singletrack's Fresh Goods Friday that alerted me to UK-based C&B Seen Lights.
C&B Seen, based in Kent and not too far from where I grew up, seem to have a partnership with a Far East manufacturer, but stock is held in the UK and delivery, for me at least, was next day – brilliant service!
I opted for the 1200 lumen standard package, which with P&P comes in at around £45. For your money you get a box containing the aluminium alloy light unit (a rather nice blue one in my case), a standard (non-waterproof) battery, a 1 metre extension lead, a 3-pin charger with indicator LED, a head strap (not helmet mount) and various diameter O-rings for bar fastening. I can't pretend to get excited or know much about bulbs or the technical aspects of a light, but for those of you partially aroused by such detail (or fully – I'm not here to judge!), the light comes with a CREE XM-L T6 LED. 
The light unit comes in a choice of three colours and you can upgrade your package to include a waterproof battery, helmet mount and other additions. You can also purchase additional batteries for about £20.  If you fancy a little less output, there's also a 1000 lumen package on offer. 
So initial impressions? Well, I've been using the light for about a month now and I'm impressed. The brochure blurb would suggest there are three running modes, but mine has four – full power, reduced power, fast flash and a slow/pulse flash. I have used the latter on my road bike for commuting and I can see its reflection (in good day light) in road signs about 100 yards away.
Full power in total darkness is a revelation and gives a good spread of light. The unit has a nice big button on the back – easily operable with a gloved hand – that glows green on full charge, turning to blue as battery life wanes. Battery life is a claimed 3-5 hours – I've had no problems after 2 hours full output so far and I've read of people getting 3 on full, which is comparable to my Ay Up lights.
The battery is a nice, compact  size and sits well under my 90mm stems. Whilst it comes with a long, thin velcro retaining strap, I've found myself using the extra security of my wider Ay Up strap as well (more because I've got it rather than needing to necessarily). The extension lead would also suit those running the light as helmet mounted and placing the battery in their back pack or jersey pocket.
C&B Seen suggest coating the connector ends with Vaseline, and this is certainly something I'd recommend. They snap together well, but without the lube factor you better have the grip of a mountain gorilla to disconnect them.
When I used the light directly mounted onto the bars, with appropriate O-ring, I did find it moved about a little – it would keep straightening-up to horizontal, from a slightly pointed down position, be that off road or over the pothole-strewn roads of Surrey. This was easily rectified with a rubber grip/spacer under the light mount. 
I also very nearly lost the light body completely when the small 'grub' screw that connects the bar mount to the unit came undone. No doubt shaken loose by the third world roads I have to commute on, though nonetheless unexpected after about three rides, so a mental note made to check that every so often. It's been absolutely fine since.
Teething problems aside, what I've got mounts up to a very neat little package and eminently affordable. I guess the reliability factor has yet to be fully tested, but for now I'm really enjoying the trails that were once either tackled at less than full throttle or on a wing and a prayer if I wasn't following someone with a floodlight!