Rockshox Reverb dropper post review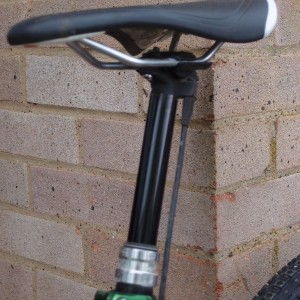 I've had a few months now with a Rockshox Reverb fitted to my Spearfish and wanted to report my thoughts.
Just to give you a little background to my experience with dropper posts I've also got a Gravity Dropper on my Orange Five and a Crank Brothers Joplin 2. Each has it's pros and cons and I'll come to that a little later.
So, the Reverb I tested is 125mm travel and can be locked at any position. Being a short arse myself 125mm was cutting it mighty fine for my saddle height, you can see form the photos there are literally 1 or 2 millimeters to spare. That's not really the fault of the seat post though is it.
Seat clamp is a fairly conventional set up and holds the saddle securely. I did have one occasion where it worked loose but that could have been my fault. It didn't do it again after I'd re-tightened the bolts.
Out on the trails it's just a case of seeing a need for saddle lowering and then pushing the standard Rockshox hydraulic release, familiar from all the XX forks, and weighting the saddle until you get the required height and releasing the lever.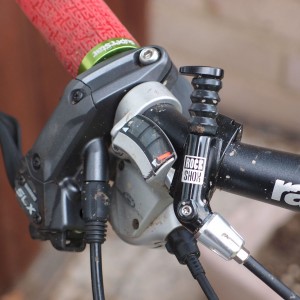 125mm, or 5″, feels like a lot of drop to me. Others may disagree but for what I do it's more than adequate, especially given the Spearfish is an XC/Endurance bike. There is a very slight hesitation before it drops and before it returns but not noticeable once you are engaged on the trail. 125mm of  hose also has to go somewhere and although there is a cable guide supplied you do need to give the routing some thought so you don't end up with your legs getting tied up or annoying tyre buzz.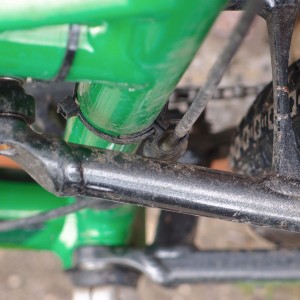 Over the 6 or so months it's been being used I'd say it worked faultlessly. It's not been the same for all the Moles and a local shop does seem to have had alarming returns rates (although no quibble repairs seems to be the order of the day) but for me everything still went up and down OK.
So how does it compare with my other droppers?
The Gravity Dropper I've had the longest and seems to be a reliable unit amongst the Moles in general. Only ever seen one fail. It takes little more getting used to as you have to unweight the saddle, press the lever, weight the saddle, release the lever and then lift again until it clicks. Actually very easy to get the hand of but takes practice. Cable is fixed length so no issues there. Only availing in 27.2, shims included for whatver size you need if you buy it from an authorised dealer.
The Joplin is quite old now and suffers from more side to side movement but I've kept mine fairly clean with an inner tube boot and I've not seen excessive wear. The release is also one of the best in my opinion as you just have to move it to release. this can be a push, pull or stab in the dark. NO 27.2mm option
The Reverb needs you to push the release in one way only but in reality that was no big problem. I suspect that after speaking to others the slight lag in release might mean the hydraulic release needs bleeding which I suppose it more complicated than oiling or replacing a cable. If you have Avid brakes the procedure looks the same as bleeding those. Again, no 27.2mm option.
So in summary I'll give it 4.5/5