Superstar Components EXCEL grip review
Mainly because the colour combination I was looking for was out of stock in the more familiar Supagripa range I ordered some of the bigger Excel grips.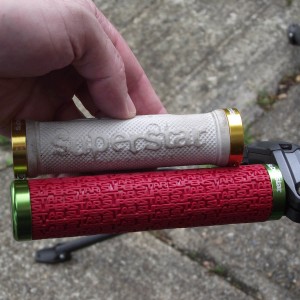 The Excel grips are both longer and bigger diameter as I hope you can see from the image. The extra width is almost a problem for my Carnegie bars which are "only" 685mm wide. Obviously if you using the STW massif recommended 1000mm wide bars you'll be fine ;oP
My hands are reasonably large I guess. I certainly need XL in some of the Spesh gloves but the grips did feel on the large size to me. How comfy the are after a long ride I'll have to come back to you in a few weeks, probably after Mountain Mayhem! What I do like is the fact they are very even unlike the Supagripa with its raised logo and detailing.
What is great about them and the whole Superstar offering on grips is the interchangeable rings and end caps in multiple colours. They even do Hot Pink Matt!
Anyway, at £11.00 (with colour matching, single piece end caps) they appear to be worth a punt. I'll let you know how they feel after a few rides.