Review: Velosolo singlespeed spacer sets
I guess one of the things about riding a singlespeed bike is ensuring maximum efficiency. The perfect chainline is essential to reduce friction in the drive train.
If you can bling it up while you get the perfect chainline, so much the better!
With a lot of the single speed conversion kits you get two spacers, one to put either side of the cog. Obviously you are limited in how you adjust the chainline to makes sure that the cog and the chainring are perfectly in line. That's when the VeloSolo spacers come in. For £12.95 (+£1.75 P&P) you get a set of anodised spacer rings consisting of 1 of 7.5mm, 1 of 6.5mm, 1 of 5.5mm, 2 of 4.5mm and 2 of 2.5mm.
With this selection there really is no excuse to have your chainline more than a millimeter out. Choose from black, red, blue, gold, green or special edition 'Rasta' mix of red, gold and green spacers. Even Dandy would be happy with this selection. As you can see from the photos, my Kona is currently sporting a nice set of red rings but I've had a set of gold ones for some time as well on my Inbred 29er.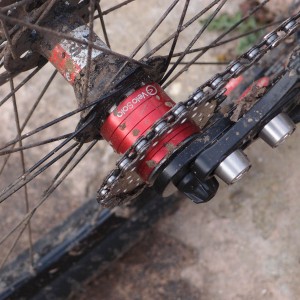 It's worth noting that VeloSolo cater mainly for the Fixie crew but they also have unramped chainrings suitable for 1xX (1×10) setups as well as singlespeeding. They'll even sell you a matching lockring. Those with a dull, not interested in bling, mentality will also find plain aliminium rings at a few pounds less.
All in all a great little find for tuning as well as blinging!