Salsa Horsethief 2 2014 – Split Pivot review
I confess to being a little nervous about trying the latest iteration of the Salsa Horsethief, complete with Dave Weagle's Split Pivot rear end. As a long time owner of a Salsa Spearfish I've grown to love the brand and the design.
When Pat from Ison Distribution was kind enough to let us review a Horsethief 3 complete bike I'd felt a little cheated. There wasn't anything wrong with it as such but the specification just didn't wow me and I ended up feeling very flat about the bike. Pat later lent me his own Horsethief which was specc'd much more as I would my own bike and I was much more positive about it.
Now we have Salsa playing with the very feature of the Horsethief (and the Spearfish) that made it so suitable to UK weather and mud. They were putting a pivot right on the rear axle! These replaced the flexy seat stays of the old model and is obviously very similar to the way a major brand (starting with T, ending with K, four letters……which, funnily enough, may well be the number of letters Mr Weagle uses to describe the brand as well). There's a lot of info here about how and why this is the best single pivot you can buy but I also ride an Orange Gyro and that has to be one of the best single pivot bikes…..surely?
Anyway, nerves aside we got to Swinley, Pat arrived and I got to see the Horsethief in all it's glory. This is the Horsethief 2 in a rather lovely green which regrettably won't be making it to our shores where we will only get the choice of the frame only. This will be the "Gun Metal Grey" of the Horsethief 1, which I suspect is also a classy colour. The "basic" Horsethief 2 isn't really very basic and this led to a totally different experience from the older bike. The specification is somewhat different to the one listed on the Salsa site. This bike had Fox Evolution forks (51mm offset), Fox CTD shock, SRAM X9 running gear and Stan's ZTR Rapid rims. It's also a pre-production sample and hence there may well be minor tweaks to cable routing and linkage before the final frames hit the warehouse.
The frame itself was a large and that also concerned me as I normally ride a medium. As it turned out I needn't have worried as the 750mm bar were the thing that first hit me. Coming from 685mm bars they seemed huge. I'm not so different in stature from Pat so after a little saddle adjusting we all headed off to the start of the Swinley Blue trail. Unfamiliar bikes always feel different and maybe a little awkward but I have to say that the Horsethief felt comfortable from the outset. Even the WTB saddle felt good.
At the trail head I sternly warned everyone not to start off to quickly and headed off up the track. Getting the cornering tuned on the first few turns I found myself spinning the speed up, standing up for the climbs and generally ignoring my own warning and I flew down the first section. This is a big 120mm travel rig, capable of much fun on a wide variety of trails but it climbed like the proverbial mountain goat. I'm sure a decent set of wheels helped the rotational weight but whatever Mr Weagle did to the suspension it worked! I had to wait for the others to catch up!
The ride was generally good natured with no one really noticing I was on a bike that had no right to be in the UK yet. I had the ideal smoke screen of Matt (and pretty much everyone else at some time or another) on a Salsa Mukluk. Comments such as, "where's the engine", "look a Landrover" and "look at the size of the tyres on that" kept eyes focused away from the Horsethief. I was happy, I was enjoying this bike that was supposed to be too big…..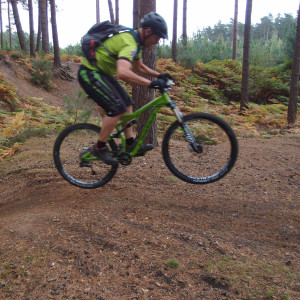 We got to Death by Berms…..I mean Stickler and that passed quickly and rather nicely. The bike handled smoothly and accurately not fighting me on the tight berms and carrying speed that wasn't there in the first place. Matt then fancied ago and I swapped to the Mukluk for the beginning of Tank Traps. Bike swapping continued with us ending up at Corkscrew and here most people had a go on on bike or another. I then wrestled it back for the ride over to Deer Stalker via Reservoir Cogs.
This is one of the best sections at Swinley and given it is followed by Deerstalker I could spend all day on those two sections. Reservoir Cogs is a fast flowing section with some table tops and sweeping berms. The Horsethief felt almost like a magic carpet with the way it smoothed the trail out but always told you what was going on. It felt like the grip was just around optimal with just the possibility of carrying sufficient speed to get me into trouble if I overstepped the mark. I didn't or the bike didn't let me, either way, grin factor five. Equally impressive was the way I then climbed up to the start of Deerstalker. It could be the whole bike package but as a "whole" it felt just right. There was no critical setting up for me (could be Pat and I were closer in weight than we might want to admit!) but everything just seemed to work. I guess the engineers that designed this new version should be really proud of it!
So Deer stalker. A flowing, tightly bermed, narrow downhill that if ridden well rewards, if ridden badly damages rider and bike. Wowser! I flew down it, setting a new Strava time for me (always take with a pinch of salt but I felt like it should be my quickest run) and grinning from ear to ear as I exited. The only downside was I now had to follow Matt down with me on the Mukluk!!
This went on for the rest of the trails. I could eulogise more but it wouldn't change my opinion. I was left with one question though. What the hell is the new Spearfish like???
So, get the picture? This is a fast, well mannered, goat like climber and flowing gravity machine. It's as happy on the fast and flowing as it is on the tight and twisty. Granted it's not a full, long term review but given most of you might get an hour's ride on a demo day if you're lucky I'd be parting with money by now. Well I would if I didn't have the best single pivot 29er already……..hmmm…do I though? "Pat!, how much for this large one?"