Salsa Spearfish – Build and first ride review
As I'm sure my fellow Molefathers will tell you, once I get an idea in my head I tend to pursue it like a snappy little dog until I either find it's impractical or it's a new bike. This one ended up as a new bike, in a Trigger's broom sort of way.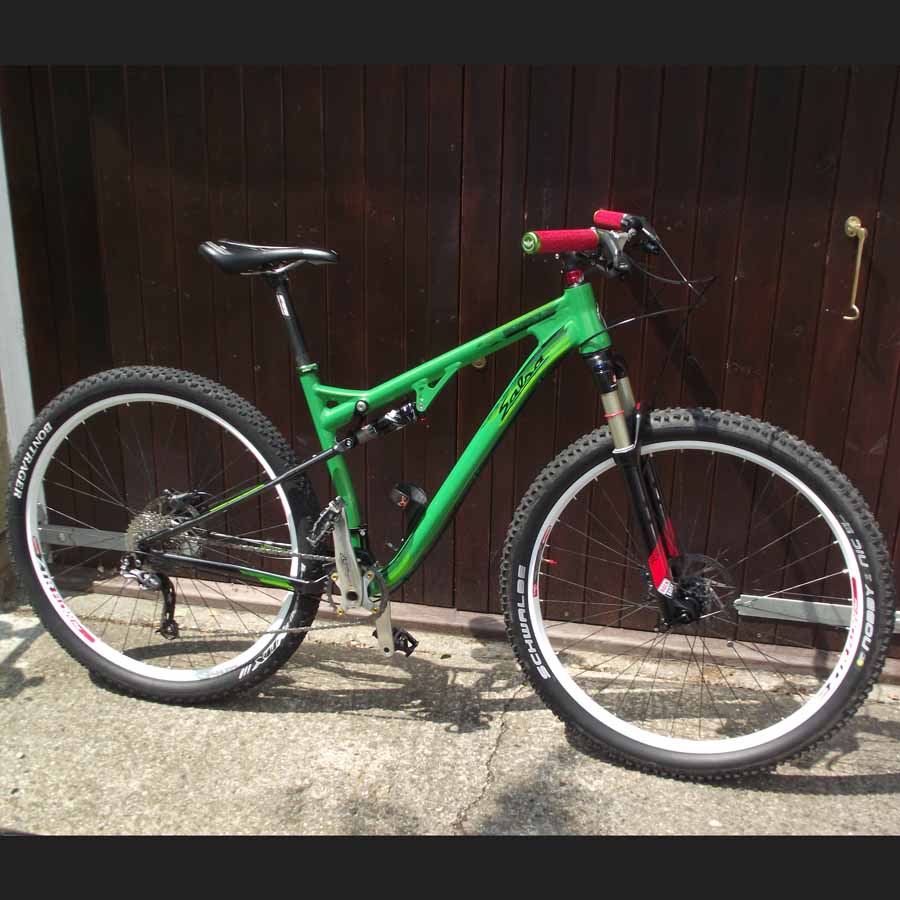 My Intense Spider 29er has been a worthy steed but it's a bit like a thoroughbred racing horse. If I am on form it's probably the fastest bike I've owned but take your eye off it for a moment and it bites. Given I'm not really a racer, and certainly not a 2-4 hours type of racer, I need bikes that are a bit more forgiving.
Enter the Salsa Spearfish
The Spearfish offers 3″ of rear travel which is pretty much all you need on an XC 29er orientated bike. It makes use of a flexy rear end to do away with a set of bearings which is great for maintenance so I might ride this more in the Winter mud (or as today, Summer mud!). Plus there is the "must have" tapered headtube as well as another new "standard", a Pressfit 30 (PF30) bottom bracket.
Tapered headsets are well established now and hence I had an option to run my current Reba 29er with a Hope crown race to convert it to 1.5″ or take advantage of the On-One bargain tapered Reba's that are not imported into the UK by Fishers.
The PF30 BB present a more interesting challenge for Dave at Cycleworks in Leatherhead. I was pretty adamant that I wanted to use my XT, 24mm axle, chainset. Dave did offer me a killer offer on a set of carbon FSA he had in stock but even that proved to be a bit of an issue on PF30, being designed for BB30 before PF30 came out.
In the end after trying various adaptors we settled on the Problem Solver adapters which seem to work fine. Fitting the HTII cranks required a small amount of tickling with my mate Mr Mallet but all seemed to got togther well and the inital stiffness in the BB seems to have worked itself out. It'll be interesting to see how long it lasts. Rotor do have an interesting posible option which they make for Cervelo on the BBright system, Dave is looking into this for the future.
So with the Hope headset installed and the SRAM/Problem Solver BB in place I took the frame home to finish. First on was the stem and new, red, headset spacers. Carnegie bars soon followed, SLX brakes, rear 9 speed shifter and then the Superstar Excel grips in red. As already mentioned I "eased" the crankset in place with Mr Mallet.
With no BB cups to hold the chain device in place I was forced to buy a new MRP 1.X seatpost mounted device. This is a neat little clamp and slider that allows you to position the chain keeper over the chain ring and stop any mishaps. If anything it'll be easier to adjust than the BB version.
Wheels into place, check the chain size, one link too long maybe, I left it as was and I had a functioning bike. Tiredness set in and I decided to leave the final adjustments until the morning.
Finishing the build on the Salsa Spearfish
Morning came and I remembered to tighten up the pinch bolts on the left crank arm! Then a little fettling with caliper alignment, adjusting of gear cables, chain device, stem alignment and it was time to ride up the road and back. So far so good. Quick setting of the sags, front and rear, and off to show Cycleworks the new beast.
The new bike weighed in at just under 29lbs using their "Dream Destroyer" scales, although I have to say mine confirmed it when I got home. The trip there took in a couple of downhill bridleway sections and the Spearfish handled in a very neutral, predictable way. This was exactly as I had hoped. The rear certainly seemed quite active as I watched the movement of the rear shock but the Monarch R has no platform. The full shake down would need to wait until the Sunday ride and black clouds looked ominous.
First ride on the Salsa Spearfish
Steady drizzle all night meant it was going to be a sloppy ride in places. The rain itself managed to stay off for most of our ride, at worst a light but determined drizzle. With a Nobby Nic 2.35 upfront I wasn't worried too much about front end traction but the XDX on the rear isn't really for friction limited conditions. Talking all of this into account though I have to say that the Spearfish proved itself to be a very competant all rounder.
Salsa at Mountain Mayhem
After six hours of riding round the Mountain Mayhem course near Ledbury I thought I'd add a few more thoughts as to how the bike rides. First of all I did actually see another Spearfish there, luckily it was on the Ison Distribution stand so I was the only rider with one of their own. Very important when you're trying to be in a niche!
On the course the Spearfish, now shod in UK Summer Mud-X tyres, performed very well. I'm getting to know it's character very well and it is a safe bike. It climbed as well as it's rider could manage and descended in an equally sure footed manner. Suspension action is on the firm side but given the few miles it's done this may well improve as components wear in a little. Also I'll probably give the shock an air can service to make sure there is some lube in there.
What is certain is that there isn't a 29er full susser frame out there to come close to this on in terms of value at the moment. Even when the price rise of £100 comes into effect next season it'll still be a bargain.
Salsa Spearfish summary
The bike has performed well on the 50 or so miles it's covered so far. Neutral handling makes it good up and down and I can be a bit more relaxed about it compared to the Intense Spider it replaces. Horses for courses I guess.
I can see the Spider flying past me at 2am on a 12-hour race but when tired on a small down I think it would scare me where the Spearfish takes the odd mistake for granted. Only two concerns stay with me at the moment, one is tiny, the head tube badge is off center! The other is that the rebound on the shock seem to make little difference and just seems slow. Might let the SRAM tech center have a little looky at it.
Time to take off the Mud-X tyres and reshoe it with Nobby Nics, 2.35 at the front, 2.25 at the back. I'll keep you updated how it fares in the months to come.