Santa Cruz Blur xc review
Hardtail or full suspension? That was my concern I had in my research for finding a fast bike that I longed for.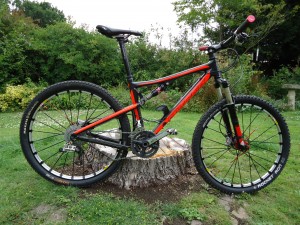 The criteria I had for this process was a lightweight bike that could be used as an everyday steed on my local trails and also as an occasional race machine to enter some events over the year.
So what was it to be?
I decided to demo as many bikes i thought were appropriate, These were Whyte 19 carbon race (hardtail), Giant Anthem aluminium (full susser), Specialized Epic carbon (full susser), Trek top fuel carbon (full susser), Genesis latitude titanium (hardtail), Scott spark 20 carbon (full susser) and the Santa Cruz Blur xc carbon.
All bikes were ridden over a period of weeks and then all of them back to back at one of the British XC race meetings held over the country, linked with some of the manufacturers demoing their bikes for that weekend.
The demo course was not the best, but did have a short steep climb and a fast downhill to obtain a feel of how the bikes performed.
All bikes involved were good in thier own right somewhere on the test track, but the Blur Xc stood out quite obviously on the climbing and felt confident on descending.
The blur was set up with 100mm front travel, but will run up to 120mm and 105mm rear travel. In my opinion the geometry seems to be key to how the bike behaves.
Blur Xc Geometry: Head angle with 100mm fork 69.5degrees. Seat angle 73 degrees.
The frame is incredibly stiff and feels precise and pridictable even at speed on decents. I am running Sid team with blackbox motion, they take a bit of setting up correctly but once sorted the combination is superb.
The top tube is not too long. I run a small frame (4.2lbs with Monarch 3.3 rear shock) which is 21.8 inches coupled with a 90mm stem and that feels perfect for my frame. This really does give the bike a lot of traction on the rear and stops the front from lifting on some fairly steep ascents, one of the deciding factors for me as I am not a heavyweight so need consistant traction.
The setup with the rear shock is great, absolute minimal pedal bob, no need for a brain on the rear as in the Epic. Also something less to go wrong and service.
Each frame is moulded in one complete piece rather than components pieced together with carbon fibre and resin as some of the bikes  I rode were. This obviously is where they have spent the money and time and made each size as super strong as it can be. Santa Cruz say that the frame is reinforced on the down tube and round the rear derailleur hanger to take hits from stones and small rocks and is stronger than the the existing alloy blur. Not that I want to find out!
The small details in the frame are quite unnoticeable until you start looking, the cable stops are integral to the frame and not stuck on as an afterthought  There is a built in carbon effect chain guard and a chainsuck protector to save your lovely carbon chainstays.
If maintenance is an issue the contact cartridge bearings on the VPP2 have grease ports to keep them lubricated and keep the muck out. So every few rides a good squirt of grease to keep them in good order and potentially less replacement. They even supply you with the grease and gun with the frame.
This bike really floats my boat, I think due to its geometry. Not too steep as in a super twitchy race bike, but not too shallow as in an all mountain bike. It sits very well in the middle, so can be used very effectively as a race bike. My blur currently sits at 24.0lbs with Shimano XT pedals. I could reduce the weight at a large cost, but seem fairly happy with it in its present build.
 If 26 inch wheels arn't your thing  these days, try the 29er, Santa Cruz  Tallboy. Similar in the geometry stakes but not quite so quick to  respond on the tight twisty turny stuff, but incredibly  at demolishing roots and rough terrain.