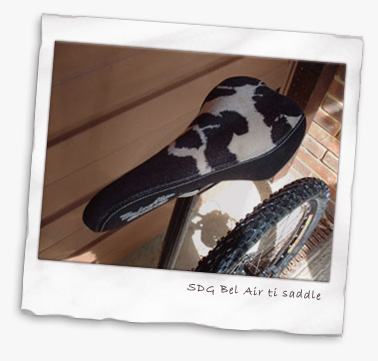 Republished from March 2004, here's Dave's review of the SDG Bel Air Ti saddle.
If you've ever wondered what it's like to ride a Friesian cow, this is closest you can get without gaining some notoriety in the mass media. This one also comes with the added bonus of Ti rods, a fate which would never has occurred to the original owner of this bespoke item!
Despite the extrovert looks it's actually a very comfy saddle which I attribute to a combination of the Ti rails that absorb some of the shock (the cow resides on my hard tail) and the custom foam used. There's none of the obvious 'love groove' action going on here but the saddle seems to get along just fine without it.
I plumped for the Bel Air as I fancied something better than the Specialized BG saddle I had bought before and it had good reviews in the biking press. For the sake of comparison I also run a WTB Rocket V and a Speed V on two different full sussers. The Rocket V and the Bel Air are both easy to get off the back when you have a sudden "weight back NOW" moment but I find the Speed V needs a little more planning. I can ride any of these saddles for 3-4 hours and still walk afterwards but the SDG has the overall title for pimp and bling value. Be aware though that mud seems to slowly turn the hide a delicate cappuccino shade over time but I guess that's also true of the real thing.
If you can afford it go for the Bel Air, otherwise check out the WTB range.