Ride report: Thrills and spills at Bike Park Wales

This weekend we decamped to Bike Park Wales for an eventful day of riding.
Unbelievably this was my first visit to Bike Park Wales. I suppose I am not normally a fan of bike uplifts, preferring to 'earn my descents' or if the climb is that long, passing altogether. But several Moles have been and all had good things to say so, I was pursuaded to give Bike Park Wales a go.
Then of course, the pandemic happened. And lots of trips and plans had to be put on hold. It wasn't until late autumn of 2021 when we started talking about riding somewhere away from the Slurrey Hills. The idea of a day at Bike Park Wales in the middle of January was mooted and plans were hatched (the prospect of three or four months of greasy Surrey clay tends to do that to you).
Just before the run up to Christmas I suddenly found myself booked for the uplift and pencilled in for a day of downhill on January 15. Privately I was thinking middle of January? Bit optimistic.
The week running up to Saturday didn't feel too positive either. Sometimes damp, sometimes sunny but without exception sodding cold, as a 0° road ride on Thursday evening attested. But plans were plans.
So it was that I found myself loading the car on a chilly Friday evening for a 6:15am early start the next day, driving MarkJ and myself to meet Tony, Lloyd, Lee and MarkC at Bike Park Wales.
Saturday morning proved to be both very cold and very foggy as we left Leatherhead, with the temperature hovering near 0° heading for Wales. A coffee stop that left us playing catch up followed by speed restrictions on the M4 near Cardiff and up the A470 to Merthyr meant we didn't arrive until past 10:00 but at least by then the temperature was a balmy 4-5°. Despite the chill, careful planning meant we had enough layers to stay warm all day.
Car parking at Bike Park Wales
A top tip if you are going to Bike Park Wales at the weekend… by 10:00 on a Saturday in the middle of January we were struggling to find anywhere to park. I can only imagine what it might be like at other times of the year, so plan ahead and aim to get there in plenty of time.
Once we had managed to find a parking place – no mean feat – and got ourselves changed and ready to go we had missed the first run of the day so Tony, Lloyd, Lee and MarkC were warmed up by the time we had checked in and got ourselves organised. MarkC especially so – he was riding up the hill each time while the rest of us let the van do the work.
Riding up the hill is clearly an option, and Hobson's Choice if you are unable to book the uplift (in these Covid times you can't just turn up and wait your turn). Mark managed it 5 times on the day which is an impressive effort but it takes somewhere between 35 and 45/50 minutes each time and unfortunately means a wait at the top for your riding buddies or you end up riding some trails on your own. During the afternoon we missed Mark each time as we tried to squeeze in the last few uplifts.
I would strongly recommend the uplift if you are able to book it unless you have an e-bike to get you up the hill – the uplift was well organised and despite being a van full of predominantly adrenaline-fueled men wasn't quite the bro-zone I was worried it would be. I think that's because it's running so regularly that it keeps everyone moving quite efficiently and the variation in music from each van helps!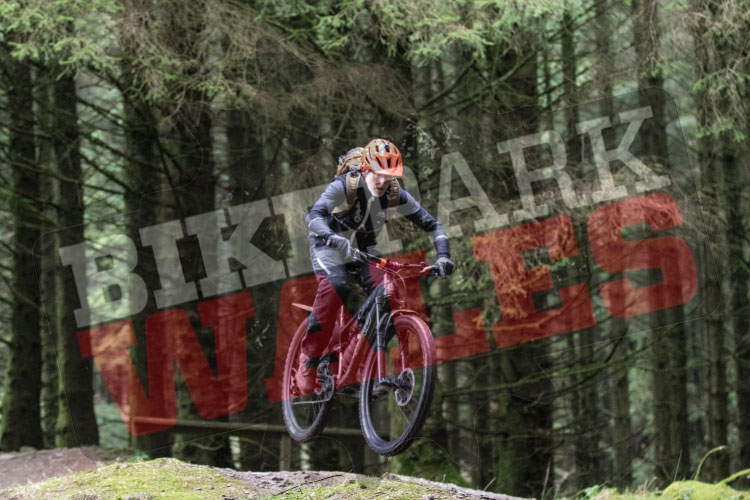 Anyway, back to the riding. Mark and I managed to join the others for the second run of the day, starting on blues just to get a feel of things. The others had already done Terry's Belly, so we started on Sixtapod and then Willy Waver.
It didn't take long to realise the trails were nicely crafted and that despite the damp they were both very well drained and increadibly grippy. The Welsh gritstone (or whatever rock they have) just seems to grip for days. The Blue runs seem to be built for high speed flow, with big deep berms offering turn after turn of fast consistent fun. I knew pretty quickly that I was going to enjoy myself and Lloyd, MarkC and myself soon formed a short train. Lee and Tony meanwhile had disappeared into the distance.
It wasn't until we neared the bottom of Willy Waver that it became clear something unfortunate had happened.
Entering the last turn Tony had managed to clip a rock with his pedal which launched him down the trail unemcumbered by the bike itself. The resulting sudden acquaintance with the ground had hurt quite badly. Enough to crack his MIPS crash helmet right through, leaving him concussed and with some pretty sore ribs.
By the time we caught Tony and Lee he was still prostrate on the ground, trying to work out how he'd got there and if everything still worked properly. N.B. for those who might be worried, I'm pleased to say no bike was hurt in the event.
I have to say I was quite worried. The closer we looked it was apparent that Tony had quite a blow to the head, with blood on his nose from this glasses and mud packed in the rear vents.
It wasn't until Tony was resting from his efforts at the cafe that the damage to the crash helmet became obvious and I think we can say it was a lucky escape. Enough to convince me I ought to get a MIPS crash helmet myself and to remind us all that Blue runs can bite as hard as any other.
While Tony rested with some pain killers, the rest of us continued on. Next up was Melted Welly and Blue Bell, both Blue runs and while Tony's accident was uppermost in our minds we soon tuned back in to the trails. I was also starting to really appreciate my Bird Aether 9 which felt very much on my side all day. I've loved this bike since I first got it but it was great to see what a monster it is in its' natural habitat.
The only bit of trail I didn't think worked well – probably because I was either too slow or too fast – was Roller Disco. It's a poppy Blue but I couldn't seem to get the flow. I was going fast enough to jump off the many, many humps, but not fast enough to clear to the next hump so I kept landing on the upslopes. To clear them you'd have to be going at some speed, or slow down and roll them all; I just didn't find the right rythmn.
Third time round we started on Terry's Belly (a nice Blue) before Lee, Lloyd and myself tried my first Red of the day, Hot Stepper. The name spoke for itself, with the first slab offering a solid step down (something just about rollable at low speed but that really needed speed to clear smoothly). I was following Lee so had the benefit of a sighter in front, but the top section offered some solid drops. The Aether felt so well balanced though I was quite happy but if that was on Surrey Hills mud I wouldn't have been riding it.
The trail settled into quite a technical effort, lots of drops and steps down and through tree roots (fortunately the forest sections were bone dry) but I really liked it.
Next time round we were up for another Red and lured MarkJ onto Vicious Valley which has a 1-2ft drop off a board walk at the start. From there it's fast into the trees, then increasingly steppy as the trail progresses, with your speed again helping you clear sections quite easily. Halfway down you hit a fireroad and have the chance of Bonneville or Surfin' Bird.
Much amusement followed my assertion that the start of Bonneville was only an 18 inch drop; while technically true, it's the subsequent four feet of downslope that is the more important dimension to the equation.
But we were never going to ride that though. If you are a Bird owner it is obligatory that a) you photograph your Bird by the Surfin' Bird sign and b) you then go and ride it.
This turned out to the be the 'hardest' thing we rode on the day. There's a few slab drops near the top that by now we were used to but as we got into the fast trail we found several blind crests over sections of dry stone wall with decent drops the other side. Near the end Lee and I picked up quite a bit of speed and his screams had me laughing so much I could hardly see what I was doing.
We met up with Tony for lunch who by now had got a new helmet from the Bike Park Shop and wanted to give the trails another go. Sensibly he and MarkJ opted for the Blue of Melted Welly, Blue Bell and Norkle but even here it was apparent Tony was in a lot of discomfort and he wisely called it a day at this point.
Meanwhile, we went round for the final couple of runs of the day. Lee, Lloyd and myself did Vicious Valley and Surfin' Bird again, this time I was leading the group and felt myself ding my rear rim on Vicious Valley and then hit one drop on Surfin Bird hard enough to reach full travel on my Pike. It was weird; I kept asking myself if I was over-riding (I definitely was) but all the same I felt pretty confident in the Bird itself. Some of the fast sections of the Blue of Norkle were just sooo fast.
We just about had enough time to get the last uplift of the day and decided to try the long Green Kermit trail. This is a beginner level trail in terms of skill levels (literally anyone could ride it), but it was a lovely trail to end on as it flowed smoothly. Only the slightly flat turns stopped me from taking them faster but it all strung together nicely.
Until that is right near the end. I hit a compression at high speed passing the stone wall and clipped a chunk of rock out of the ground with my pedal. It was probably the same thing that happened to Tony in the morning and I was suddenly sideways with the rear wheel in the air and the front wheel loaded up.
It needed a firm hand to keep it pointing in the right direction and the saddle made its' presence felt on the inside of my left thigh, but I had just enough breathing space for the bike to come back down and for me to straighten it out before the next turn.
It was close to a high speed over-the-bars accident and was a reminder not to get carried away. I was lucky to get away with it.
Overall, that was a truly memorable day of riding at Bike Park Wales.
I rarely ride that hard and if I'm honest I don't think I'd want to as it was pretty intense. Our Garmins told us that we had managed between 18-20 miles of downhill riding for the day and that is a lot of hard physical effort for anyone.
It's amazing though how a few hours away can lift the spirits and remind you – if you needed reminding – why we do this mountain bike thing at all. Bike Park Wales comes highly recommend from the Moles.