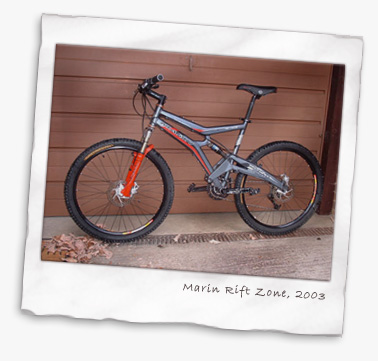 In January 2003 I decided it was time to find out what the fuss was all about with full suspension bikes and turned naturally enough to Marin.

I fancied a full suspension bike really to iron out the trail buzz that seemed to be giving me horrendous headaches after longish outings. So far it's helped but it hasn't stopped them.
Another plus for me was the opportunity to have a bike that climbed well, had a decent front fork and the chance to add disc brakes. Although I could have achieved some of this with the old Muirwoods frame I had, having done the sums it seemed cheaper and more fun to buy a new bike.
As with most people, the original spec of the bike was the starting point for tweaking the bike to suit me. Early tweaks included Hope Mini disc brakes (I specced them from new), new riser bars, wheels, tyres and handgrips. In addition, Marin upgraded the original pivot linkages to one piece efforts which stiffened up the swingarm nicely. See Trigger's broom for a more recent update.
So, how does it ride? Well that's a tricky one. At the time I didn't have the experience of full sus to make direct comparisons but it was certainly smoother and faster than anything else I had ridden. It took me ages to 'dial myself in' to the RZ but after the first summer I managed to reach a point where I was relatively happy. These days, I ride it almost exclusively and can honestly say it is essentially foolproof. It may now be a bit limited in travel but for my kind of riding (cross country with some decent sized lumpy bits) it's fine.
The fact remains that it's me that needs to improve, rather than the bike.
Rift Zone specification (as at Feb 06)

| Component | Spec | Component | Spec |
| --- | --- | --- | --- |
| Frame | 2003 Marin QUAD Rift Zone 17.5″ | Headset | WTB Momentum |
| Forks | Manitou Skareb Elite | Bars | Easton EA50 2″ |
| Front mech | Deore LX | Stem | Marin 120mm |
| Rear mech | Deore LX | Seatpost | Easton EA50 |
| Shifters | Deore | Saddle | WTB Speed V Sport |
| Front brake | Hope Mini | Pedals | WTB 310 |
| Rear brake | Hope Mini | Rims | Mavic 317 |
| Chain | SRAM | Hubs | XT (front) Hope (rear) |
| Cassette | SRAM PG950 | Rear Shock | Fox Float R |
| Chainset | Truvativ Stylo XR | Tyres | Continental Vertical 2.3 |