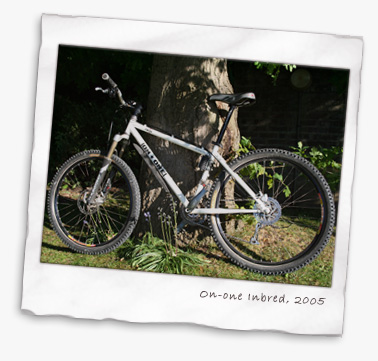 Having ridden my Inbred sparingly over the past year since I built it up around April 2006 I haven't really felt I was in a position to comment on it.
Things were made more complicated by the fact that On-one now offer the 456 Inbred and more recently the On-one slot dropout frame. In other words, my classic white Inbred, corrected for 100mm forks is now effectively a bit old skool.
However, I've now started to put the miles on the bike and with On-one still offering a 'not sliding dropout' complete bike on their website I think it's still valid to give a brief description here about my latest hardtail.
You might think, looking at our list of bikes, that we're running out of things to say about the Inbred and you'd probably be right. We're big fans and for one simple reason. The Inbred is one of those bikes that simply 'feels right'.
It may well be a that a lot of thought has gone into the geometry. The tubeset may also have been carefully chosen for it's strength to flexibility ratio (very scientific). And it doesn't do any harm that On-one live in close proximity to Orange and thus their bikes get tested over similar conditions. None of that really matters though. Quite simply, every person who I know that has tried my On-one has said (sometimes even unprompted by me) what a comfortable bike it is and how confident it makes them feel.
Don't get me wrong, it's a hardtail and the back end can kick, especially if you're not expecting it. But the top tube is long enough to let you stretch out on longer rides while the front end bites confidently when you're heading downhill. None of our frames have broken and we keep going back for more. Dave has the 456 as mentioned and even Mark has started a guerilla campaign to persuade his wife to let him trade up to one of the slotted dropout frames. Though why she wants him in a gorilla outfit mystifies me.
I'm 5′ 11″ and riding a 16″ frame which is at it's limit size wise to give you some idea of dimensions. This lets me run a long Thomson seatpost which gives a bit more compliance.
Recommended, without wishing to get too evangelical about it.
On-One Inbred specification (as at May 2007)

| Component | Spec | Component | Spec |
| --- | --- | --- | --- |
| Frame | 2005 On-One Inbred 16″ | Headset | Hope (gunmetal) |
| Forks | 2004 Marzocchi Marathon coil | Bars | Easton EA50 2″ silver |
| Front mech | Shimano Deore LX | Stem | Easton EA50 90mm |
| Rear mech | Shimano Deore LX | Seatpost | Thomson Elite |
| Shifters | Shimano Deore LX | Saddle | WTB Speed V Sport |
| Front brake | Hope Mini | Pedals | WTB 310 |
| Rear brake | Hope Mini | Rims | Mavic 317 |
| Chain | SRAM | Hubs | XT front, Hope rear |
| Cassette | SRAM PG950 | Rear Shock | N/A |
| Chainset | Shimano Deore LX Hollotech II | Tyres | Continental Vertical 2.3 |