Bird Zero AM Boost hardtail review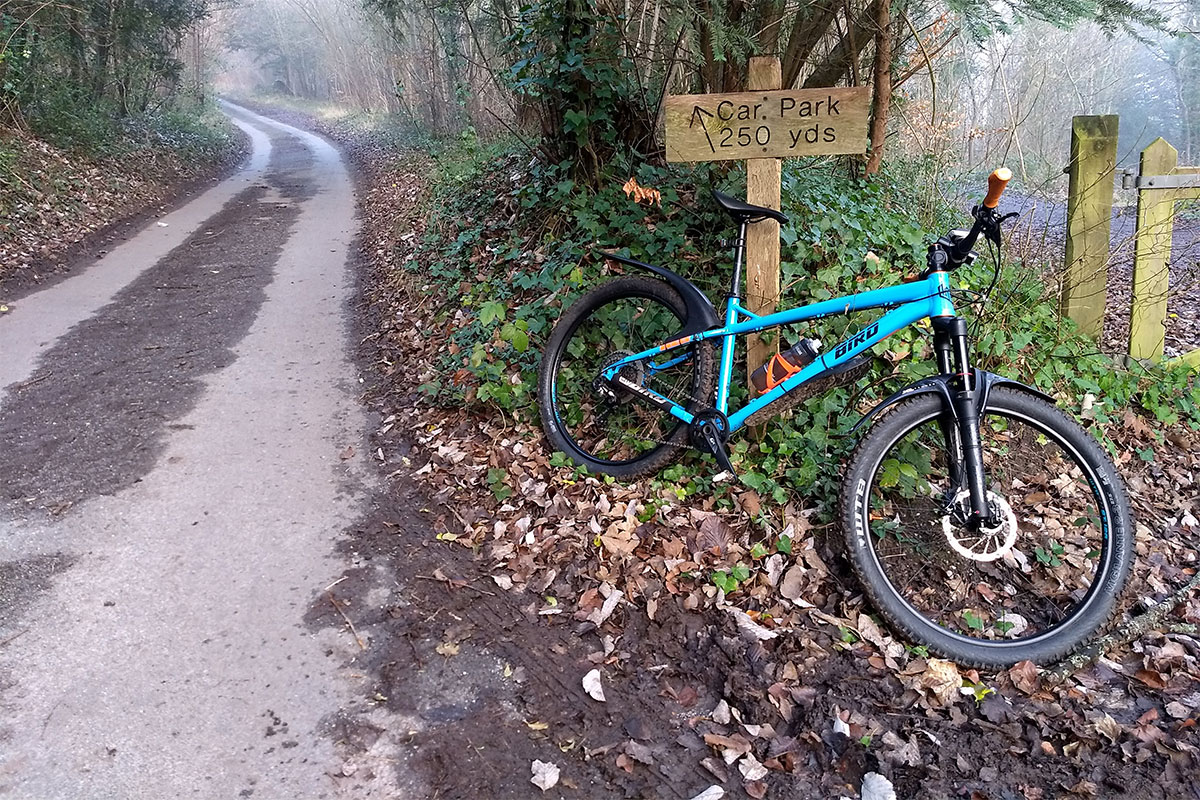 The Bird Zero AM is a slack-angled rowdy trail hardtail. I've had mine for about a year now so it's time for a review.
About Bird Bikes
Bird Bikes are a small UK mail order company selling up-to-date aluminium trail and enduro focussed mountain bikes to anyone who wants one. They started out based near Swinley in the South of England, but now have operations across the country making demo bikes available from a select few local dealers. You can hire them from CwmCarn in Wales too if you want to try before you buy on suitable trails.
Being such a small but growing company, they are very customer focussed; if you email them you will usually get a prompt reply and quite often that will be from Bird founders Ben or Dan who design and spec everything themselves.
As an aside, once you own a Bird Bike you join a loose but supportive collective of other owners called the Flock; Bird HQ is referred to as the Nest. Since we refer to our own HQ as the Molehole or the Burrow, we can relate to that!
Buying a hardtail
The reason I bought the Bird goes back nearly two years. As a long time hardtail owner (a Marin Muirwoods back-in-the-day, followed by a steel On-one Inbred and then a Scandium Kona Big Unit) I find a hardtail offers contrast to trails which can sometimes feel over familiar. I love riding full-sus bikes, but a hardtail certainly shakes things up (in more ways than one).
A couple of years ago, my Kona was feeling a bit long in the tooth. As a 29er it felt rather steep-angled compared to my Jeffsy, but more importantly it felt really short and cramped in the cockpit. The revolution in frame geometry that has characterised the last five years or so was starting to arrive at a consensus, and it was nothing like the Kona.
These days, it's all longer, lower, slacker. A long top tube, slack head angle and steep seat angle sounds normal, but that hasn't been the case at any point in the history of mountain biking up to now.
Buying my Jeffsy – itself now relatively conservative in frame geometry – really opened my eyes to what a quality modern mountain bike frame needed to have. Jumping on the Kona after the Jeffsy was like riding a circus bike!
Donor bike time
Looking around I realised that not only was my frame out of date, but the bits hanging on it were too. Mainly too narrow in most key areas – narrow rims, narrow hubs, narrow fork. I needed a big step forward. The most efficient way I could find to do this was buy a decently specced bike from Evans Cycles via their Bike2work scheme, then cannibalise it to hang the bits on a new frame of my choice.
I ended up buying a Pinnacle Iroko, which was a lovely bike. I never rode it, but stripped it down and sold the frame. I kept – among other parts – a set of 27.5 WTB Boost wheels and tyres, a 120mm Rock Shox Revelation Boost fork, and a SRAM GX 1×11 drivetrain.
The frame itself looked lovely and while the geometry might have been relatively middle of the road, it was still miles ahead of my Kona. I would have been quite happy with keeping it…
…but I had my eyes on the Bird Zero AM.
The Bird Zero AM
I had been vaguely aware of Bird Bikes for a year or two before, but not paid too much attention. As luck would have it, the launch of their latest Bird Zero AM Mk3 Boost frame coincided with my hardtail plans, so the two dovetailed quite nicely.
The icing on the cake – in fact the thing which really got my attention – was the bright Atomic Blue colour of the frame. It continues to look superb and I have a thing for blue bikes as you all know.
Looking at the geometry, the Zero AM is right on the money. At just under 5′ 11″, I bought the ML (Medium Long frame) which gives me a 630mm top tube and a 472mm reach. It has a 64.5° head angle and a 76° seat angle and a wheelbase of 1201mm. Those numbers are basically perfect for me – it's long than my Jeffsy 29er for heaven's sake!
The only issue I had was it needed a 150mm fork; but that turned out fine too because the 120mm Revelation I had just needed a new air shaft to take it up to 150mm of travel. With Jem doing the work, it was easy!
After a protracted build brought on by cold weather (I don't like wrenching in cold garages!) and a lot of care to apply clear vinyl tape to protect the frame, my Bird Zero AM ended up looking awesome and ready for anything.
How does the Bird Zero AM ride?
Now we get to the crux of things. Obviously a bike is a sum of parts, all of which have a contribution to make. But talking about the fork or the gearing is pointless here; I bought this bike as a frame and built it as my means allowed.
So, what can I say about the frame? Well, one thing I will say about the frame is its stiff. Very stiff. In fact, the back end will kick like a mule and is ultimately the factor that will slow you down on fast rattly terrain. Then again, that's the point of having full sus isn't it?
The solidity of the Bird is not in the same camp as an old Cove Stiffee, but at the end of the day the frame is an overbuilt alloy frame that's made to take some abuse, particularly the rear with its fat seatstays and heavily engineered chainstay yoke.
The front is never going to let you down either. It steers and tracks with great security and the stiff frame only helps to place the bike just where you want it, with the long wheelbase keeping the bike stable at speed. That said, the 27.5″ wheels do help keep the handling responsive – in fact, I think I like the smaller wheels over the 29″ wheels on the Jeffsy; it just makes the bike so quick to react.
This is helped by the steering. I have a Race Face Next carbon 35 handlebar and a 50mm stem which contributes to decently quick steering without getting twitchy. I went for a 50mm stem to give a bit more room, but Bird suggest a 35mm stem works too. I think that depends on the handlebar width – I prefer the 760mm of the Race Face bars, but some people might like a wider bar and shorter stem.
Put the bike on some flowy singletrack and you'll be delighted at the sort of miles you can crank out. Get the front where you want it and the back will look after itself. This is helped by the 27.2mm seat post I have shimmed to fit the frame, you can feel it flexing perfectly. A dropper post will give you more options on slower, steeper stuff, but I haven't really felt the need.
Another surprise is the climbing ability. The steeper seat tube puts you in just the right place to winch up most things, to the surprise of others around you sometimes given the slack front end. The only time it doesn't really climb well is if you get out of the saddle and crank – you just seem to end up with your weight in the wrong place.
I love riding this bike. I've spent long 30 mile rides on it and it's great across country before coming alive for the sort of trails it's built for – think Barrie Knows Best rather than some of the more rattly trails round here though. A bigger volume tyre might help (I have 2.3 WTB Vigilantes) but then you make life harder elsewhere.
As with all bikes, it pays to play to its strengths. Keep it for shorter rides, or twisty singletrack and enjoy its surefootedness. Chase a full susser downhill and expect to be slower and a lot more beat up by the end of it!
If I had to be critical, I'd like to keep the geometry (which is perfect for me) but experiment with a little extra flex in the frame. One of these in steel or titanium would be the icing on the cake, but even without that this bike gets a clear 'Recommended' from me.