A change of Pace (my Pace RC627 birther story)

Well, there it is. A conspiracy theory reference in a Moles post. It had to happen eventually.
We're not talking about the Moles birther story. No, this time it's about how my winter hardtail hack became my summer ride after a series of unfortunate events.
Time to swap frames
But first to recap a little. Back in the autumn of 2021 I decided the time had come – after 1600 miles on my Bird Zero AM – to think about a new hardtail frame. I always enjoyed the Bird but there was no getting away from it that it was a stiff alloy frameset. And my thinking was a steel frame might give all the advantages of the Bird geometry with maybe a little more flex and spring to the ride feel.
Hold that thought for a bit.
The most economic option was a simple frame swap, keeping my existing components (including the 27.5″ wheels) and porting everything to a steel alternative. I hesitated for a while over a steel 29er like the Stif Squatch or the much-delayed Bird Forge but those options would have required new wheels and a new fork.
Hold that thought for a bit.
So the obvious choice was the Pace RC627 – 650b wheels, big tyre clearance and a Reynolds 853 steel frame with adjustable dropouts. And it was available in blue; not the funkiest blue compared to the Zero AM, but blue all the same, so my orange accents might also work.
The only problem really was availability. Just like everyone else, the Pace supply chain was under pressure post-Covid. But I ordered in good faith at the end of August 2021 after much pondering over geometry and sizing and – er – stem length. I ordered the Large, accepting I would need a shorter 35mm stem than the existing 50mm Race Face Aeffect stem off the Bird.
All other dimensions were as close to identical as to make a swap from an alloy frame to a steel one pretty simple.
Should have been simple anyway.
Two wheels bad
On stripping the Bird to sell the frame I found a problem with my wheels. Long-time readers will remember that the parts for the Bird themselves came from a Cycle 2 Work donor Pinnacle Iroko which I stripped and sold on un-ridden.
Well, the wheels were – are – WTB i25 rims on very middling Novatech hubs. Light they most certainly were not. As I stripped the bike I attempted to get my worn Vigilante tyres off the rims to replace with fresher, fatter rubber.
No luck. So tight are those WTB tyres on WTB rims that they remain in my garage because I still haven't been able to break the seal on the tyre bead to get them off. They must be welded on!
But there was worse to come. The freehub was also knackered with the cassette welded to the freehub and the bearings welded to the axle. I couldn't get the cassette off the freehub, or the axle from the hub shell and eventually brute force resulted in what brute force always does. A very broken rear hub!
Remember I hadn't wanted to buy new wheels? This fiasco meant that well before the Pace frame arrived I was looking at new wheels. That frustration removed one of my original obstacles for going to a steel 29er because now I needed a new set of 650b wheels anyway. I looked around, fancying some Hunt wheels, but eventually bought a pair of Silt MTB wheels (a review of which will come in due course). After finally accepting my misfortune, I went back to waiting for the Pace frame to arrive.
I had plenty of time to wait.
How many frames?
Supply lines were stretched and after much slippage, I didn't take delivery of the Pace RC627 frame until the week before Christmas.
One thing that becomes clear working with Pace (and the ever-helpful Sophie) is they are a small outfit. Like, really small father, daughter (Sophie) and a handful of others. So I have to be honest I think they did really well getting the frame to me in the week running up to Christmas, at a time when Sophie was probably more interested in her familys' Christmas than bike frames.
I was delighted they managed it as my intention was to build the bike up over the New Year break ready for the winter gloop. But a quick inspection on Christmas Eve revealed a problem. Which is kind of when the saga actually starts…
Because taking the frame out of the box and removing the bubble-wrap revealed a very nice steel frame as expected, but with a centimetre and a half scratch under the downtube, like a knife cut in the paint. I looked at it and thought that the cables would hide it, but then realised the cable routing goes under the downtube. So I contacted Pace…
Sophie's response late on Christmas Eve was really quick – she could supply some touch up paint, or replace the frame. I wasn't expecting an answer so close to Christmas when we all have better things to worry about, and since I didn't think it was a particularly big deal, touch up paint was fine; with the added benefit of avoiding unnecessary van journeys up and down the M1 to Yorkshire.
Into the New Year
After chasing in the New Year and then through January (coinciding with Sophie being unwell) the touch up paint was no-where to be seen. By the end of January we mutually agreed the simplest thing was to do was just swap the frame completely.
Unfortunately, this is where I created confusion. Remember I had been wavering about what size of frame to go for?
Now that I'd had a Large (scratched) frame to look at for a while I kept thinking it looked really quite large indeed. And that maybe the Medium would be a closer bet for replicating the Bird sizing after all (as in an identical match). In reality the Large would probably have been just fine as the only real difference was the Reach, which I had planned to 'fix' with a shorter stem. Instead, I started to worry that if it didn't fit, with a 35mm stem it would be impossible to go any shorter…
So since we were swapping the frame, could I switch to a Medium please?
Of course, no problem!
After further delay frame number two turned up. And frame number two turned out to also be a Large frame…
By now it was the first week of February 2022 and I had ordered originally at the end of August 2021 (knowing there would be some delay at the time). After much to-ing and fro-ing with frame number two (during which Pace staff suffered further sickness and I offered to pay some of the second-swap costs – an offer that was declined), the third frame finally arrived into Mole HQ on March 3 2022!
After six months of problems – not all of them of Pace's doing – I finally had a Pace RC627 in my hands to build up…
By now the Great Drought of 2022 was coming into force. Winter was long gone and it would soon be Easter. I set about finding time in a busy work schedule to get the frame covered in clear protective tape and to start building it up. It all went reasonably well until I started faffing with the adjustable dropouts.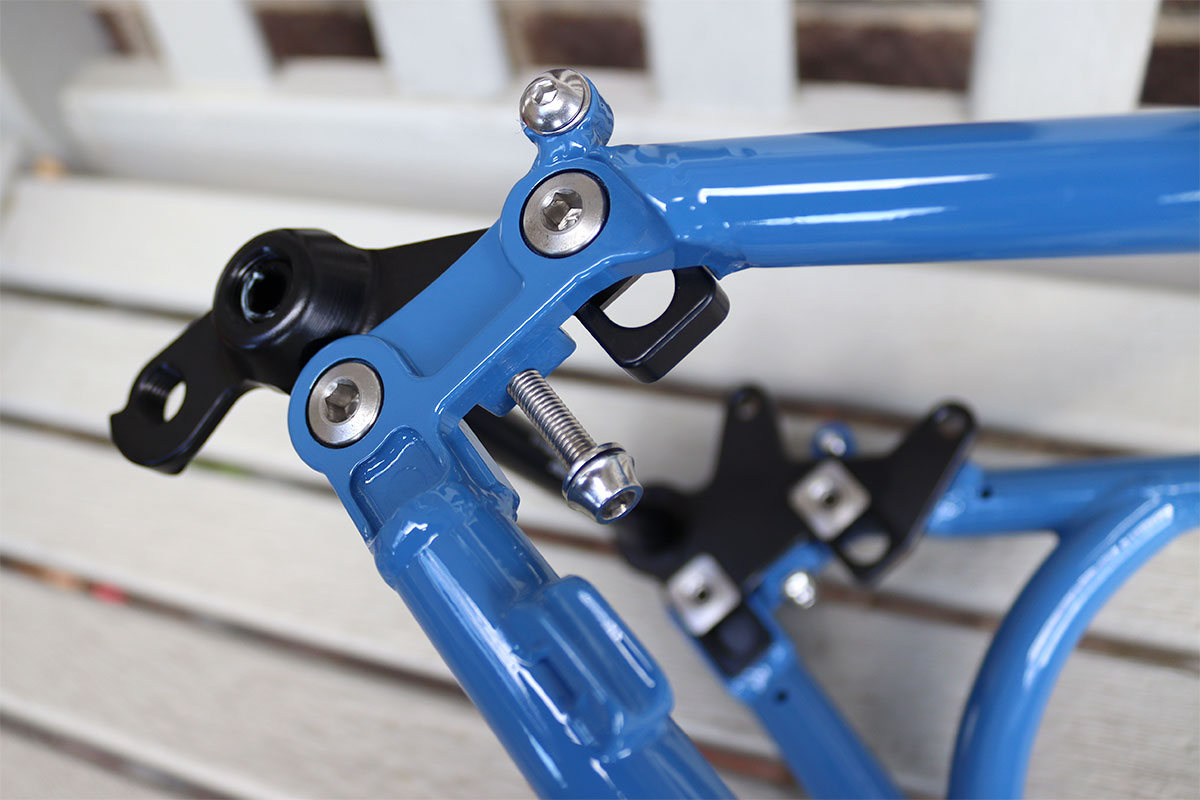 In a moment that artisans spend their careers trying to avoid but the rest of us invariably embrace, I managed to snap the adjuster screw in the driveside dropout. If you look at the pics (which I took when the frame arrived), you will see the non-driveside adjuster screwed fully in while the driveside one is only screwed into the frame. So I thought I would screw it in to match the non-driveside. I promptly managed to screw up the dropout itself.
By the end of April I was emailing Pace yet again. Easter was behind us and I still didn't have the bike up and running!
Pace's reply – while not immediately offering a fix – was to ask me to phone their technical bods.
Fair enough but instead I chose to press ahead and finish the build. I was simply too busy to phone and if Pace weren't going to send out a new dropout or offer a discounted price at that point, I just didn't have the time to argue or the energy to faff around with some sort of effort to remove the nub of screw left in the dropout.
Finished! finally
The build was finally finished on May 2 2022, 8 months after the initial order. I've fiddled with the dropouts and so far, whether they are working as intended or not, they have been just fine.
The bike has now done 330 miles, over some of the most concrete-like dried up clay trails that I've seen for many years – now heading rapidly toward fine talc. I am dialing in the fit ready for the winter to come so will follow up with a review in due course.
The final Pace RC627 experience for me has been:
Order new bike
Wait
Hear bikes are in country
Wait
Receive frame 1
Discover scratch
Wait
Agree touch up fix
Wait
Wait
Swap frames instead
Receive frame 2 but get size wrong
Wait
Receive frame 3 – Goldilocks – right size, no scratches
Build faff
So much build faff
Decide to tweak the dropout adjusters
Snap off dropout adjuster
Contact Pace re. dropout adjuster
Receive a not unreasonable response from Pace to contact their technical bods
Lose will to live and decide to get the RC627 running and decide from there
Finally – riding
And that, dear reader, was my 8 month Pace RC627 birther story!