Pace RC627 hardtail review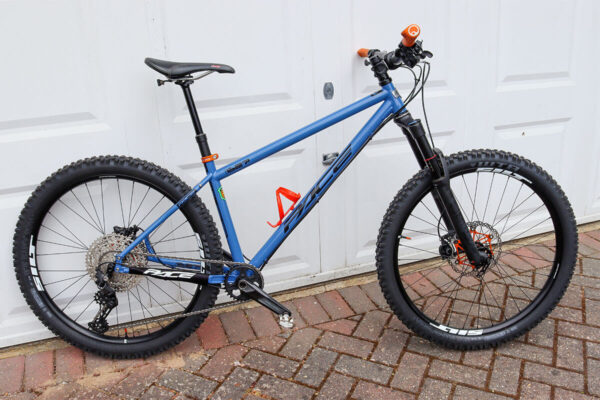 After 600 miles through a golden summer and a cold, wet winter it's time for a review of my Pace RC627 hardtail.
It's taken a while to get to this point after a difficult birth to my Pace experience and I wanted to give things time to form a clear perspective.
The Pace RC627 frame
I actually bought a Pace RC627 frame in Midnight Smurf Blue back in October 2021.
After some delay, then confusion, I didn't have the bike up and running until May 2022, just in time to hit the start of one of our hottest ever summers. This point is key, because my objective with the Pace RC627 frame was for a winter season workhorse, with a supple 'steel is real' feel to the frame versus the alloy Bird AM Zero I had been running.
Once built and out on the trails you can imagine my initial disappointment to find the ride feel of the Pace was uncompromisingly hard. If I had subjected this bike to the Marie Kondo test I would quickly have said it was not bringing me joy. But why?
Well, that was hard to say. I mean, most of the parts from the Bird were swapped over directly to the new frame, so I spent most of the summer scratching my head.
The Bird AM Zero rode as you'd expect an alloy hardtail to ride but I could still put in long miles without issue. Was my first Pace RC627 experience simply that the trails of 2022 were like concrete? Quite possibly; much of the North Downs is clay and that had baked as hard as iron in the unprecedently hot summer.
My disappointment was all the greater when I think about what the frame has going for it. First, it's immaculately finished with a thick, durable looking paintwork that's as good as I've seen for a frame at this price. It's got a nice metal headbadge and sports 853 stickers under a clear lacquer to tell you its pipes are using high quality Reynolds steel.
Coupled to that, there's tons of clearance for chunky tyres and the frame has a long, purposeful look to it. It looks the business for sure and fits me really well in size Medium.
With the right kind of energy the RC627 can leap around with the best of them.
But that ride. I fiddled and fettled and tweaked and adjusted but I just could not get the bike to a sweet spot that I liked.
This was such a disappointment to me because I was hoping for a playful whip of a bike when instead I had a bully boy bruiser that needed assertive handling. Not what I was looking for at all, especially when running smaller 650b wheels.
An evolving picture
I wasn't about to give up on the Pace so soon.
I knew that come autumn the trails would soften and surely the bike would then come into its own. Well that's sort of true; the trails definitely softened for sure.
But the Pace continued to bring more pain than pleasure. It may even have contributed to my 2022 fade out because it was a bike that was proving deeply unpleasant to ride as autumn drew on and winter set in.
I continued to rack up the miles on the Pace though – 600 miles for only part of the year versus just under 1000 for my beloved full sus Bird Aether 9.
After an awful lot of consideration I've come to the conclusion that three things are affecting the Pace performance, none of which are due to the frame itself. These are:
The setup is massively over-tyred
The Silt MTB wheels are very stiff
My fork really needs a service at minimum and ideally, a comprehensive upgrade
Problems, problems
Let's take those one by one shall we?
First of all, my tyres. My Bird AM Zero used to run WTB Vigilante tyres in size 2.3. I quite like them to be honest as they offered up stacks of grip and a nice alternative to the standard Maxxis-everything which so many riders opt for.
With this in mind, on swapping the frame to the Pace I decided I would have the same again but more so, and chose the WTB Vigilante Light/High Grip variant in size 2.5 for both ends of the bike.
In hindsight, this was a mistake. Not only are the Vigilantes heavy – about 1100g apiece for a 27.5 tyre, helping the Pace weigh 33lbs – but the High Grip part really means high grip. Limpit-like on the trail, these things shed speed faster than the Millenium Falcon in a Death Star tractor beam which makes the whole bike exhausting to pedal and prevents a nice flow.
I don't think there's a great deal of suppleness to the tyres either. Front and rear feel similarly wooden, but I have belatedly realised I've hamstrung myself even further by adding a Vittoria air liner to the rear.
You know when you think a long-forked hardtail is going to have a hard time over roots and you want to protect your rims? Yeah, that. 165g extra that.
As for those Silt MTB wheels… in a similar way to the tyres, the Silt wheels are another key divergence from the knackered WTB i23 rims I had before. This time I went with a 30mm internal rim, planning big things from big volume for my Pace.
I'm not going to criticise the Silt wheels because they have been excellent (another review soon). On all counts they've been stiff, reliable, strong, with a quick pick up to the freehub and much lighter than the WTB wheels they replaced. But I think they are completely wrong for the Pace; or at least my riding style on the Pace.
I say this because one thing is clear with the Pace and that is that it is a stiff frame; certainly stiffer than I expected it to be. But a bike is a system, not a single part and I think the optimal wheelset for the RC627 is what Pace offer with their rolling chassis – the Hunt Trail wide. That wheel from my own experience has a softer feel overall yet remains laterally stiff.
The Silt in comparison feels like it is bullet proof and will take an absolute beating. You could hammer it in the bike park all day, but it doesn't feel right for the Pace.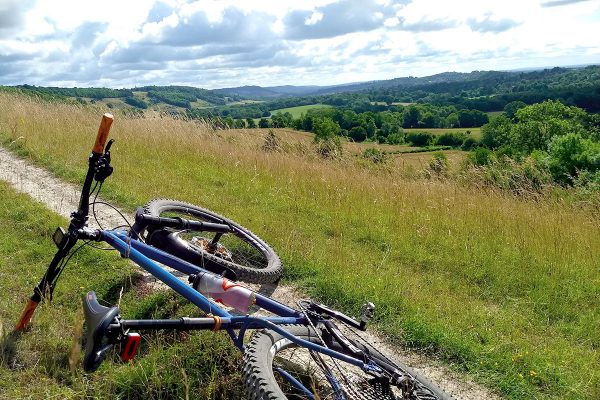 Finally, we come to my fork.
What can I say? It's an old 150mm Revelation RC which is badly in need of a service. It's taken me a while to realise this but I really don't think it is helping the ride experience at all. I am convinced that it is a big factor in the wooden feel of the Pace I've experienced so far.
Hammering down trails like Sauvage – a trail we've ridden time and time again over the past year – has brought all the above issues to a head. The top of the trail is flowy and a bit of a work out as you need to pedal to make progress.
On the Bird Aether 9 it's a pleasure as you hook short straights to lightly bermed corners. On the Pace it's hard. You feel like you are pedalling the whole time against a heavy bike that just does not want to roll with those draggy tyres sucking up all your speed.
Later in the trail sharp direction changes set you up for a trio of log rolls. Here, the fork is quickly overwhelmed as you demand both grip and steering together. I've understeered. I've oversteered. I've caught hidden stumps with my pedals on apexes hit far too early and drifted wide into the undergrowth on exit.
Finally you hit the rough rooty end of the trail which nearly rattles you to oblivion with the fork overwhelmed, the tyres overwhelmed while the stiff wheels let you know every bit of the trail underneath you. I've reached the end several times with my wrists buzzing.
Change is coming
You can tell can't you? My experience of the Pace RC627 so far has been a disappointment. Even so, I honestly don't think I can blame the Pace frame. What it has done is tell me more than ever how important it is to get a bike working together as a system.
Steel on its own doesn't guarantee a supple bike. Not every wheelset is the same as another. Tyre choice turns out to be about more than outright grip. And the fork is a critical component in the mix.
My next steps are to put a lighter rear tyre on the Pace. There's performance there to unlock and I reckon a cheap supple Specialized Ground Control 2.35 will pedal better, allow for controllable rear movement and save close to 470g by losing the Vittoria liner at the same time. That's significant and well worth trying.
I am also going to service the fork which is another sensible move. Ultimately a better fork would help, but at this stage I'm looking for cost effective solutions. Finally, the jury is out on the Silt wheelset in this set up. I am not going to fault the wheelset itself because it has a lot going for it but I don't think it is right for this application. A Hunt replacement whispers to me!
You'll notice from all this I'm not actively criticising the Pace RC627.
I don't really think that's the problem and I think there's a lot of fun to be had if you are careful about your component choice. I do think it's fair to say the RC627 is not the kind of supple ride you might expect it to be – but is a 150mm hardtail ever going to be about a supple ride, particularly with 650b wheels?
Pace's own complete bike specs offer a good window into what's required here – 140mm Rock Shox Pike Ultimates and Hunt Trail Wide wheels, which I am sure would give the comfort and control that I've so far managed to miss.
The Pace RC627 frame is a lovely piece of work. It won't break and will give years of service. Given the above, if you can I'd suggest you size up, as a longer wheelbase should help both the ride and provide additional stability as you take full advantage of your fork travel.
I hope to unlock a better experience for myself; but it's possible I'm just not the rider for this bike.