Learn to ride with some MTB Skills Coaching

Why would you pay a load of money for someone to teach you how to ride a bike? After trying 3 different MTB schools lately, I've found learning best practice and unlearning the bad habits developed over the years can unlock a whole new dimension of mountain biking enjoyment. However, choice of coach is critical.
My recent day of training with the Astounding Adventures ladies made me aware of some things I was doing wrong and showed me there were key skills which I wasn't even aware of, such as 'energy management' (using the energy inherent in undulations and even the turns in the trail to maintain and even increase speed by applying subtle changes in body position).
Using the techniques learned is incredibly satisfying. Even when you are stuck behind a slower rider, you can focus on applying the techniques and riding more efficiently, meaning that when you have a clear run, you can really rip it and enjoy seeing those techniques become more natural as the riders that you used to struggle to keep up with disappear behind you.
Having perhaps unwisely entered the Forest of 661 Dean Mini-Downhill Race in February, I felt I needed to do some emergency work on jumps and drops so I signed up for 3 hours 1:1 coaching with Ian Warby of Firecrest MTB at Aston Hill.
Ian started with a skills check. I was weak on 'energy management' not really having grasped what the AA ladies had been trying to teach. After tidying this up, along with my cornering and looking, we moved onto jumping, with Ian coaching me to keep my heals down and not to lift the bike whilst jumping – both hard techniques to grasp when you are used to riding clipped in. The AA ladies hadn't corrected me on the heals-down thing – and it turns out that this is absolutely key to riding descents, to energy management and to jumps and drops. He also gave me an invaluable tip on cleat setup to help correct this.
He then taught me a technique to ride 'through' a kicker without losing speed (and if you do it right, even gain speed from it), instead of jumping over it and as a result slowing down.
Later in the session Ian moved me onto the upper sections of the 'Black' downhill run at Aston Hill, providing invaluable tips on looking and on riding off camber roots, which as he wisely advised would be a key requirement for the Forest of Dean race.
The skills developed and tips on technique and line choice given by Ian were invaluable at the Forest of Dean and I'm convinced that without this session I would have been clocking 02:00 minutes plus, rather than the 01:40 that I achieved. I'm sure that more experience and further coaching with Ian would make sub 01:30 possible.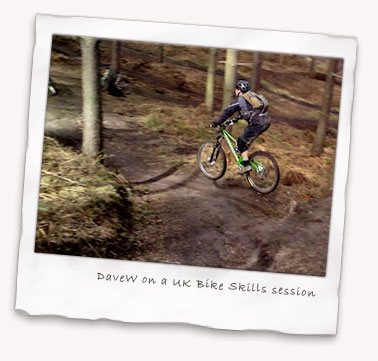 My search for MTB coaches also brought me in touch with Tony Doyle of UK Bike Skills, known on the MTB forums as 'Jedi'. He didn't have weekend availability prior to the Forest of Dean race, but I had read so many good things about his coaching and riding ability online that I booked a 4 hour 1:1 session for April the 3rd anyway.
Tony immediately came across as a really chilled out, affable and wise bloke, putting me very much as ease. He started with a skills check and identified my key training needs (particularly un-weighting the front of the bike without pulling on the bars and looking skills). Alongside this he started analysing how I best learn skills, so that he could focus his training methods accordingly.
It soon became clear that Tony is an entirely superior class of coach – not just teaching you riding skills, but coaching you personally and helping you to develop yourself in order to improve your skills. As a Psychology graduate I am usually very sceptical when people claim to use psychology, but Tony is a master.
Tony's riding skill is astounding – very smooth, with the techniques he teaches totally integrated, which makes his demos invaluable. He also videos and takes pictures of you riding, so that he can show you how to fine-tune your technique.
During the session with Tony I developed more confidence and competence in jumping, cornering, drops and energy management. I realised that the 'blunt tools' provided by lesser coaches are in fact very subtle techniques and I moved away from trying to deliberately force the techniques and towards applying them more naturally and intuitively so that they feel more smooth and polished. Tony's write up and pictures from the session can be seen on the UK Bike Skills blog.
What have I learned about the worth of MTB coaching? Well, if you improve your skills, you will enjoy riding more and the sooner you start, the less bad habits you will develop and the less there will be to unlearn. I still have a long, long way to go skills-wise, but I am loving the journey so far.
And what have I learned regarding choice of coach? Astounding Adventures know the principals of mountain biking good practice, but missed some key issues with my riding and didn't get some of the techniques across [in fairness, this was in a large group of 11, not one to one as the other two coaches were – Matt]. Ian Warby is a more skilled rider and coach and particularly valuable for coaching on downhill racing. Tony Doyle is a coaching and riding genius who can help you dial in the basic skills and then to progress your riding to a much more advanced level, whatever your goals.
You can read more about Tony Doyle and UKBikeSkills on their website.