Nukeproof Horizon stem review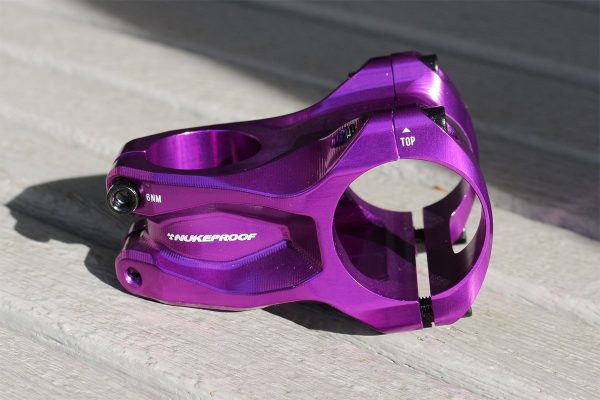 This is something of a first, I don't think I have reviewed a stem before. First time for everything I guess…
The thing with bike stems is that there is often not much to say about them. They have a simple job to do and pretty much all do it well enough; that is connecting the handlebars to the steerer tube on a fork. Fortunately I've not come across a stem failing catastrophically for example, which would certainly get your attention.
Within that broad use-case though there is much that can go wrong or right. Stems may not generally fail, but they can put unexpected stress paths onto handlebars which are much more vulnerable – and I have certainly seen broken handlebars in my time. Then there's the old chestnut of stiff stems and direct steering which is often used to justify exotic materials or at least, exotic prices.
Beyond performance, one reason that drives a lot of after market stem purchases in my view, is styling.
Nukeproof Horizon features
Let's face it, the world is full of black stems. Cheap ones, expensive ones, good ones and bad ones, most of the time a bike stem just goes unnoticed. With the Nukeproof Horizon stem you have that option too. But you also get a few colour options and in the case of the 50mm version I have here, it's gorgeous! In case you haven't noticed, it is a very lovely rich purple.
The anodising has a deep finish, the richness of this purple looking particularly good in my view. The picture is completed with neat laser etched graphics that provide useful information and the Nukeproof text, along with a funky 'HZN' moniker milled into the top of the stem body.
As with life, beauty only gets you so far. Fortunately there is more to the Nukeproof Horizon stem than the visual appearance.
Up close you can see how well it is made, CNC machined from a solid chunk of aluminium. The outer contours are polished smooth to contrast with areas that have been milled away to reduce weight, leaving a fine washboard effect in the alloy.
The faceplate too matches the Horizon stem body seamlessly, with an open center that reveals the handlebar within. Fitting is made much easier with the advice to have the top of the faceplate touch the stem body. This keeps the two halves visually together and leaves the bottom edge for fine tuning the tension on the handlebar. You can turn the stem to run either a 5° rise or fall too.
From the above you can see the Nukeproof Horizon (HZN?) stem is a well thought out product and a cut above lowest common denominator stems that bikes normally turn up with. Worth mentioning too that the edges of the handlebar opening are lightly chamferred to limit those stress points I referred to earlier, particularly important if you run carbon handlebars as I do.
Performance
I'm pleased to report that the Nukeproof Horizon – from my perspective – is a terrific bit of kit. Even so, this is where things can get a little subjective.
As I have already pointed out, connecting handlebar and steerer tube doesn't require a great deal of skill. However, a well made stem that doesn't flex makes a big difference in ride feel and is often overlooked. Components are designed to work in specific ways after all.
A handlebar may be intentionally stiff to provide precise feeback to the rider or it might be designed to flex in specific directions to aid comfort. Similarly, suspension forks are designed to balance precision with comfort. If your stem is a wet noodle, the handlebar and fork start to move in ways the designers haven't anticipated, particularly as you push your riding harder and need that precision most.
Basically, why would you spend a fortune on a decent handlebar or fork and then undermine it with a floppy stem? Or agonise over frame and geometry details to leave performance untapped?
I've ridden my bike pretty hard since I fitted the Nukeproof Horizon stem (including a very violent stop and over the bars incident first ride out) and the stem hasn't missed a beat. I've been careful to torque the bolts to that specified by the laser etched graphics and the result is a stem that goes unnoticed even if – with that lovely purple colour – it's not unobserved.
At no point have I felt the stem is working against me, or flexing in any way. The steering is wonderfully precise and the stem just let's the handlebar and fork do the jobs they were designed to do. I have no complaints at all around performance and my tungsten grey Bird Aether 9 is really boosted by the purple lift the Nukeproof Horizon provides.
I am so pleased with the Nukeproof Horizon stem in fact that I intend to get the same again for my hardtail, this time in the orangey copper. Not only does the stem look great, I am confident that it lets the rest of my bike work better. And you can't really ask more than that!