Race report: 2012 Kielder 100 – One Lap, One Rider, One Adventure and 100 Miles
I decided to enter the Kielder 100 again this year as the last time I tried to race it I pulled out at the 20 mile mark owing to a heavy cold. I had some unfinished business to put to rest…
Photo by Joolze Dymond
All too soon race weekend was upon me, so I packed up the car on the Thursday night once I decided which bike I would race – man such a hard decision – but one thing I knew, it had to be the big wheels for this one.  6am Friday saw me on the road heading down the M25 before the morning rush with feelings of excitement and apprehension, knowing I had 100 miles of unknown terrain to hit the next day, and the first test of my new super lightweight tent.
I made really good time and arrived at the Kielder campsite at 1.30pm, plenty of time for a rest and a wee ride to stretch the legs. First I had to fine a dry spot to pitch the tent as they had a lot of rain during the week. The place was very soggy BUT I did manage to find a reasonably dry bit to pitch my new Terra Nova laser competition 1. With a weight under 1kg it's great for those overnight expeditions.
Then time for a quick hour blast to take the cobwebs out of my legs and ensure the bike was running smoothly, the usual registration dinner and get everything ready for the next day (an early start at 5.45am). After the briefing at 9pm it was off to my tent to sleep.
I woke at 5am, spent 10 min trying to decide what to wear as you know it can get mighty cold but didn't want to have too much on otherwise I would overheat. Man, what a dilemma! Once that was sorted I threw some food down, picked up my bike and bag and headed to the start line to line up.
Once dibbed in I found myself about middle of the field, so not a bad place to be, then spent the next 30 mins trying to keep my nerves under control. It a strange feeling on the start line, I tend to go through a few emotions trying to focus myself on what I want to achieve; it generally starts with the thought of what the hell am I doing, followed by a fleeting thought of self-doubt – can I actually do this?
Then I kick myself in the arse and actually start to visualise how I want to ride the race and what my goals are and visualise myself riding strong and fast and also give myself the belief that this is my race and I am going to come in first lady as this was my goal. May sound silly but works for me.
Its 6.30 am and we're off behind the lead out car, this was my opportunity to creep up to the front bunch before the race really began. Once the lead car turned off I was up with the front bunch, so plan working well so far, then it was a matter of trying to put the gas down for the first 30 miles to try and get to be the lead woman.
The first 20 miles went by and I felt great, then we hit a long muddy climb and I felt really strong and was powering up the hill when I caught up to the leading lady and managed to pass her without too much issue, which actually felt great! I was puffing a bit but not out of breath and new I had plenty in the tank should I need it, which is a magical feeling. Once I knew I was leading I put my head down for the next 15 miles to try and get a bit of lead on before I settled into a steady pace.
I went through the first feed station without stopping as I had enough fuel on me for most of the race and for me I hardly ever stop at the feed stations especially the early ones. So at the half way mark I was still feeling ok but was starting to want a bit of normal food and was also trying to calculate if I had enough food to get me through to the end, as I knew by this stage I was going take about 10 hours.
At this point we were taken up over one of trails in Newcastleton where you had to ride across a very long section of boardwalk. It was very wide but man, did it make your eyes go funny, so I had to focus on the horizon, then it was a sweet rocky section down to where you crossed the border into Scotland.
At this point you could hear the wicked sounds of the bag pipes, it was both eerie and beautiful at the same time, then as you got closer to the border you could see the lone Scotsman playing his pipes as you crossed, absolutely amazing and did wonders for your spirit.
After this I knew I had about 12 miles to go before the next food station and I was really looking forward to some real food, as whilst I like my race food on a long one you can't beat real food. I was actually starting to daydream about food, from memory I was craving pizza.
I finally made it to the feed station and not a moment too soon as think I really needed to eat earlier, a slight error on my part, but man I was in heaven as they had rolls and hot coffee there. I picked up an egg roll and I swear it was the best tasting food I have ever had, I must of looked like Scooby doo as I shoved the whole roll in my mouth and hoovered it in in one go as well as some coffee to wash it down.
At this point I had no idea how close the next lady was and felt like she was breathing down my neck so I got back on my bike in quick time as to me it felt like I was going real slow. This next section felt like the longest ever, even though I left the feed station at mile 63 and the next water stop was at mile 78!
This is where I really struggled to get my head together as I was in no man's land on my own and during this section it felt like I went through every emotion I had even though I had my iPod playing which usually distracts me.
I start back on the trail and the first wee climb was a neat single track through the trees, really enjoyed that and had a big grin on my face. Then I started along some fire trails and then into more really cool single track which was very up and down so short climbs and fun descents. However, due to the slight error of not eating soon enough I was really feeling it.
My legs were struggling and with each wee uphill I was having brain failure with me arguing with myself one side telling me to just get on with it and the other half just wanting to stop and cry on the side of the trail. It was pretty much like this for the whole section but the worst part was the last bit to the next water station. It was along a river and it seemed to drag on for ages and ages and I just really wanted to stop and throw my bike away and just sit there, so I stopped and dragged out some more torq gels to put in my pocket, threw one down my throat and took a big drink of water then off I went singing at the top of my voice, so sorry to anyone who had witness that!
Wow, mile 78 made it quick calculation of how much water I needed to finish while the tech support guys cleaned and oiled my chain and gave me some well needed banter to lift my sprits as at this point only had 22 miles to go. Man, what a feeling! So off up the hill I go and finally I had a bit of company if only for 10 miles.
I was back to feeling good again and getting along at a reasonable pace, knowing I was going to finish was a great feeling that I cannot describe then I saw the 5 mile sign as we headed back up a rocky climb which I must admit was happy to see the top of and the marshals at the top were encouraging and said 3.5 miles to go and all downhill… whatever makes them says things like that I will never know, as I can tell you now it was definitely not the last climb!
At this point in the race your legs are toasted and any little bit of up you definitely notice. I did also struggle on the last down to the finish line as my arms were so sore and pumped I was struggling to hold the bike and actually just let it roll with the hope I could just hang in there and not fall off and believe me there were some very sketchy moments but I was too tired to care.
Then the magical moment where you go through the finish line! So cool, and a sense of exhilaration and relief washed over me – I made it!
After chatting with a few guys who finished around the same time we all headed up to the castle to return the dibber and pick up a free beer and some food. I must say the beer didn't even touch the sides.
I managed to achieve my goals which was be first lady in, and win my age group but had an added bonus of setting a new Vet Woman's record and came in 49th overall.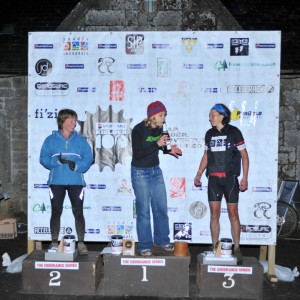 Photo by Joolze Dymond
This was a brilliant well organised race and the atmosphere was also chilled out with all riders having a common goal of finishing. The attitude of other riders was awesome and I had some very interesting conversations.  But I must say the real winners of the day to me were the last riders in, who persevered and beat their own gremlins and finished just under the 14 hour mark, now that is a real sense of achievement.
So if any of you are wanting to have an adventure and experience some amazing views and have a good laugh with fellow riders then I would suggest you take a serious look at this race, as they do a 50 mile challenge if you think the 100 is a bit too much to chew.