Rapid Racer Products NeoGuard Review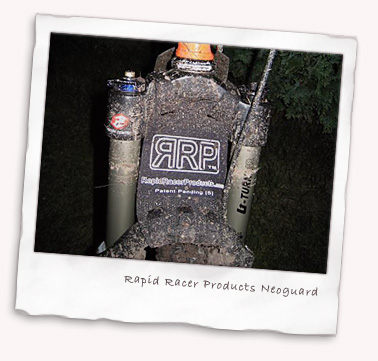 I love simple things, me. That's not because they mirror my own level of intelligence. Such things that get the job done in an uncomplicated and unobtrusive manner generate a lot of pleasure, especially if you haven't had to shell out loads of cash or invest loads of time in getting them to work. If they look good too then you're onto a winner.
What am I blathering on about? The RRP Neoguard (see more photos of the Neoguard on Flickr). Nothing new I s'pose and some would argue a poncy way of achieving the same thing as a bit of faffage (to coin Matt's phrase) with inner tube and some zip ties.
I have played around with a crud style guard (works OK-ish as long as you don't go fast) and latterly an SKS ShockBoard, a motocross-style fender. The ShockBoard is by far and away THE most effective way of keeping you clean, but the looks started to get on my nerves and the relative fragility, thanks to my penchant for crashing of late, meant that I finally broke off the mounting bracket.
So I thought I'd try what you could refer to as the middle-class version of the inner tube solution and I'm delighted. So much so, that after last nights ride, where Matt and I tried to break the MTB land speed record whilst coming down the gloopy Beaverbrook descent (I only picked up 1 blob on my face), I grabbed the camera and got scribing.
The combination of the NeoGuard and a crud-style board is perfect, keeping 99% of the crud off your face. The crud works on the low speed flickage and the NeoGuard protects you in those high speed bits when you otherwise ride into a wall of spray flicked up in front of the bars.
I can highly recommend it and at £14 its cheap enough to justify or if you're a real tart, they'll add your own logo for another £4.
Someone has already commented that after Sunday's ride with the Diary of a Mountain Biker posse, I should have had the logo changed to R.I.P.