Satmap Active 10 GPS review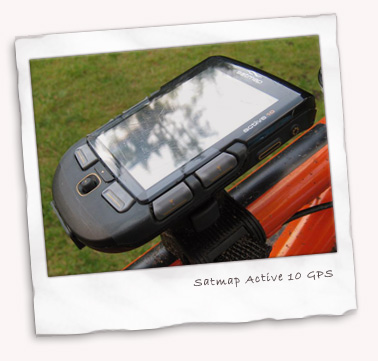 When I started riding a couple of years back, there were a few things I scoffed at, perceiving them to be pointless fads.
Time moves on and, whilst trying to be more open-minded in my old age, I have since changed my mind regarding some of them.
Take Single Speeding for example. Now that was a concept I just couldn't grapple with at all. But now, having ridden with a few guys who indulge, I can totally see the point.
Having decided my trusty Albert will do me just fine and a full-susser is no longer on the wishlist, I now find myself thinking that I may just build up a single speed machine this winter. This will really pee off the person who got me into MTB, who hates the SS brigade with a passion and thinks they are all long-bearded, skinny aliens who still live with Mum and Dad! I'll let him have a go when my knees have given up the ghost – he may even enjoy it.
Next fad – Arm Warmers. Well OK I haven't changed my mind at all on this one. A completely pointless idea and a total waste of money. If sleeves are needed, wear a top with them already sewn on, got it!
Finally, and the point of this particular blog (though it reads from hereon like an advert) – GPS for bikes and boy have I changed my mind about this, thanks to getting the much-acclaimed Satmap Active 10 from Satmap Systems, the Leatherhead-based company.
Through connections, lucky me was able to get an extremely good deal (ie £60 including the OS Explorer map card for Surrey with Swinley Forest tacked on). Perhaps I wouldn't have taken the plunge otherwise at £300, but I can't recommend it highly enough and would have saved up the pennies in hindsight. The main thing that sets it apart from any other activity-biased units out there is the 3.5" screen actually displays the OS Explorer map, on which you can plan and plot routes, waypoints, etc without going near a PC.
It puts the whole ride 'in context' on the fly – your trail, the route being followed (if applicable), points of interest (POI) and the OS map are all there in front of you. No need to go home and spend ages analysing it on a PC. When you've got yourself lost, it's a massive help.
As an example, I'd not ridden much at all up on Holmbury or Pitch and when I did, I was just an MTB-lemming, following the leader and not paying much attention. After receiving a whole host of POI's from a friend, including the trail heads for BKB, Telegraph Road, Caution Steep Slope, Xmas Pudding, to name but a few, we recently managed to cobble together a route one Sunday and take them all in, like cabbies 'doin the knowledge'.
I had the confidence to lead the MuddyMoles Pitch and a Pint night ride recently, taking in the best parts that Pitch and Winterfold have to offer. Using my expanding knowledge of the area and my GPS we rode with no interuptions or u-turns and did the exact route I had planned.
There are so many other plus points, such as the rugged build quality, the rock-solid bike mount and water proofing (tested to the max Wednesday night) but for me, the fact it is so damn easy to use and so user-friendly makes it ideal. The bike mount is bullet proof and I can thunder down BKB or Holy Moly without a care in the world.
Most importantly, it's given me knowledge that would have taken ages to acquire otherwise whilst appealing to the gadget-junkie in me.
To balance this glowing review, I did have problems initially, as experienced with other users. Battery life and achieving a satellite lock were the main problems. Satmap were quick to respond and sent out software updates on mini SD cards, correcting known bugs and it has been good as gold since then.
So, next time I find myself slating the next big thing, I'll stay quiet or once again, I may just end up eating my words. Munch munch.
P.S. There's a couple of detailed photos of the Satmap Active 10 fitted to my Prince Albert on Flickr.