"It's all downhill from here." A common phrase, and not always meant to be taken literally. On this occasion there was certainly a sting in the tail, but after the hard work to get here (see 'Snowdon: The Way Up'), it was time to cash in the gravity chips.  We were blessed with a dry but unfortunately a cloudy descent from the summit, as the photos showed.
It was also a somewhat hesitant start as we politely allowed the walkers still slogging uphill to clear each section before we aimed downhill. These first rocky & stepped sections were a useful introduction to what was to come, and once we'd left the main Llanberis Path and crossed the railway line to join the Rangers Path 'proper', the walkers dwindled to almost zero and the mountain opened up before us.
We were mildly distracted by a manoeuvring RAF Chinook helicopter whose twin rotor blades were doing their best to shatter any sense of isolation and wilderness. Having let this intrusion pass, it was back to just us and the mountain.
The descent starts with a fast and straight trail, with the odd corner to slide and drift around (if you're brave). I was taking it a little more circumspectly, at least to start with. All the way down the trail is rocky, and at certain stages it is rockier than you'd like it. It is cracking good fun, especially with a fairly long-travelled bike, the Pace 506 for me and the Cove Hustler for Jez.
After a while, the trail gets steeper and rockier. To make matters more interesting, some alpine-style switchbacks are thrown in for good measure. I think there were about 4 or 5 sections where I lost momentum and stalled. Once stopped, it was very difficult to get moving again as the size of the rocks meant that there was no means of getting any forward momentum without a brief track-stand followed by a 'launch' forward. My trail skills were not up to this type of manoeuvre, but I estimate that there was only about 30-40 metres of pushing for me on the entire descent. It certainly felt a whole lot easier than getting up there had done.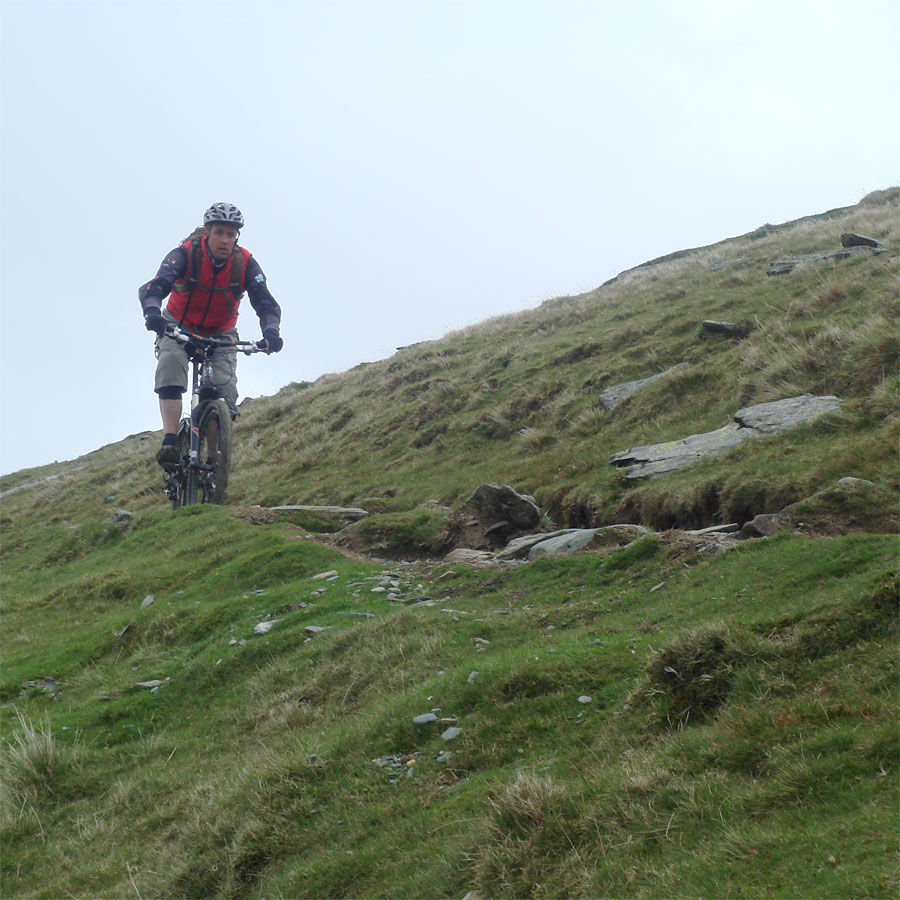 I found that once I had got momentum and committed myself to 'more or less' a decent line, I just kept ploughing on. No doubt the 170mm RockShox Lyrik Solo Air forks helped a lot with this. I managed to string a few rocky switchbacks together, and kept moving down what was for me some serious rocky steps. As the cliché has it, before I knew it the track was levelling out and the rocks were getting smaller. In the third photo of Jez below, you can see the path we'd descended snaking back up the hill into the distance.  It was a good call, even though I say so myself, to plan this trip for a Friday.  We encountered no more than a dozen or so walkers on this trail, so were able to maintain good momentum for most of the descent.
We were warned about the final uphill slog to the head of Bwlch Maesgwm (or Telegraph Valley). This is the sting in the tail I was referring to earlier. It was somewhere about now as I stripped off a few layers to prevent overheating on this last push that I lost the clear cycling glasses I had spent a mighty £12.50 on earlier that morning; doh!
The final descent down this valley was another blast, 2 miles of gradual descending in fast and swoopy lines, with a few waterbars to leap over on the way. Too enthusiastic a leap from me saw my Crud Catcher disappear, unnoticed by me as I was having too much fun. Luckily Jez spotted it and retrieved it. As I waited, I experienced my first ever tubeless tyre puncture, the first in over 15 months since I converted away from inner tubes.
The seal was duly broken on my unused 15 month old tubeless repair kit, and much to Jez's amazement the repair actually held. This was more than could be said for my rear wheel, where the shock of a flat tyre seemed to cause all the spokes to lose their tension. Luckily this problem was saved for the next trail, which we tackled later that afternoon.  More of that later, if one of us manages to pull our typing fingers out and complete the reports of our epic week-end.
We took about 4.5hours to complete the journey back to our start in Llanberis, including repair stops. Pretty good, we thought, as the guidebooks suggest 4-6 hours for this trip. Highly recommended, but not for a hard-tailed single-speeder, unless you're a real masochist.