Pace RC627 hardtail update – transformed by tyres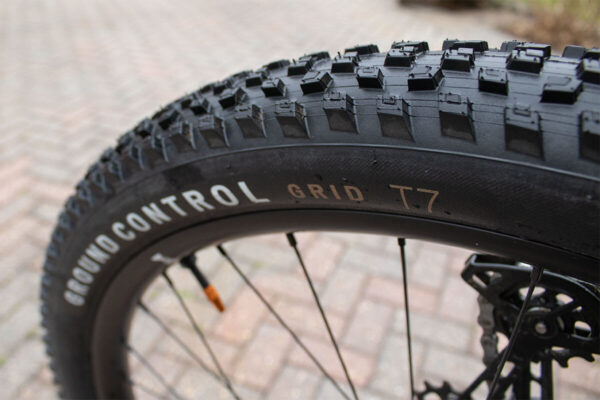 Was it really that simple? The right tyres for the right job have transformed my Pace RC627.
Regular readers will greet this with some sense of relief; if not, well, I am relieved at least. After a drawn out birth and a disappointing first 600 miles I was starting to think the Pace RC627 hardtail just wasn't the bike for me.
But I was wrong.
Work out the problem
It turns out, the tyres and set up were holding back the Pace, masking what appears to be a very nice hardtail after all. So where did it all go wrong?
After careful thought, some careful changes and about 120 miles I think it comes down to matters of interpretation and matters of spec.
On the interpretation side, I had in mind that the Pace RC627 was a burly hardtail ready for anything the trail can throw at it, what with its slack angles and undeniable heft. My intention was always to run it through the softer months (as winter trails seem to be these days; they are rarely wet) and I wanted a bike capable of taking some abuse.
This lead inevitably to my chosen spec. If I wanted to ride my hardtail down trails like Sauvage, surely I needed fat sticky tyres and even a rim protector for the rear? Run the tyres at low pressure, rely on the combination of pressure and protector to keep the rattle and hum at bay?
How wrong was I? Very wrong.
At around 70kg, I don't need that sort of spec. At 50-something, I don't ride that kind of ride. My original set up for the Pace consisted of 2.5 WTB Vigilante 'Light'/High Grip tyres plus a Vittoria Air Liner in the rear. It took 600 miles to work out my error.
The problem was I was wedded to the idea of ride quality, which was the reason I swapped out my lovely Bird Zero AM frame in the first place. I still miss that bike! But the Pace is near identical in geometry and made of steel. How could it feel so wooden?
Apply some logic
I tried everything. Fat tyres, then fat tyres at low pressures. As low as 14psi in the rear. Surely that would help the ride? Nope! Just very, very draggy.
With the rim protector the rear felt like I was riding on those puncture proof solid foam city tyres, which in a way I was. Except I had the bonus of the 1150g carcass front and rear and a high grip rubber compound. The bike just would not hold speed anywhere, and its porky 34lb weight meant recovering speed was exhausting.
Early miles on summer-dry trails had me telling myself that things would change come winter. But no. The Pace just would not move and didn't particularly handle well either. Radical measures were considered and then discarded as eventually I went back to basics.
Could it be the wheels? Yes, maybe. 27.5 wheels are stiffer than 29ers and Silt MTB don't make weak wheels.
Could it be the fork? Again, maybe. That could certainly affect the ride and handling – the fork is due a service and a Rock Shox Revelation isn't the plushest fork around – but that didn't account for the lack of speed.
Fix the problem
Maybe, going right back to basics, I needed to look at weight and drag?
This turned out to be exactly where I needed to look.
WTB tyres are a bit of an enigma. I've tried both their gravel tyres and their MTB tyres having read good reviews over the years. I shall review the Vigilantes soon, but frankly? They really didn't work for me or the Pace. I wanted to like them; the reviews said I would. But I ditched them and haven't looked back.
My clear-eyed assessment (once I'd mentally let go of the WTBs) was to look at a Specialized alternative – both because I know Specialized make great tyres and because of their price.
Settling on a 2.35 Ground Control T7 for the rear and a Butcher T9 2.6 for the front (both about £35-ish) allowed me to jettison close to 450g in weight; ditching the rear tyre liner freed up 195g more so my total weight savings have been over 620g. That's a huge amount of weight!
In addition, I've put the pressures up to a sensible level – 22psi in the rear and 18psi in the front. No more unnecessary drag and no more squirming.
The outcome
These relatively minor changes have resulted in a total transformation of the Pace RC627.
No longer does it feel like it won't hold speed; in fact it scoots along very nicely. The outright grip is gone, which given our semi-dry winter isn't the loss I expected. The Ground Control has a hard time if you hit a patch of Surrey's famous wet clay, but it's a small price to pay for a bike that feels so good the rest of the time.
That feeling of speed has really helped the handling, assisted in no small part by the Butcher T9. Counteracting the grip-light rear, the Butcher combines secure steering with a nice supple feel and the Pace now makes quick changes of direction.
Given the benefit of appropriate tyres I expect much from my soon to be serviced Revelation fork. I've eased off the rebound and added a little air but I'm still looking for a suppler feel.
Overall then the Pace RC627 is a hardtail transformed. Finally the geometry is allowed to shine and the frame no longer feels like its full of sand. If you ever find yourself unhappy with your bike, it might just make sense to invest in the right tyres for the job!