BETO JetAir Tubeless Tyre Tank and Inflator

After my weekend activity setting up two wheelsets with tubeless tyres, one product I was glad to have was my BETO JetAir Tubeless Tyre Inflator.
When it comes down to it, setting up tubeless tyres on bikes is a fairly simple job. Tape the rim, add a suitable valve, install the tyre and inflate. Salt with tubeless fluid as you desire.
In reality, the process tends to stand and fall at the inflation stage even if each element of the process can cause problems for tubeless initiates.
For me, the Holy Grail is to seat a tubeless tyre on its beads with just a track pump. I don't have any good reason to say that, it's just satisfying to be able to. More often than not though, a tubeless tyres needs a little extra help.
Some people swear by the 'inflate with inner tube, leave for a period of time and then remove the tube' approach. This has its merits but its the 'leave for a period of time' part which can sometimes frustrate, especially if I'm particularly enthusiastic to get riding.
Other people have access to a compressor to blast the tyres onto the bead. This is the Apple iPhone of the tubeless world and has many advantages – shear grunt being the most obvious – but it lacks a certain portability if you are on a multi day trip and feel you may need to swap tyres at some point. It's also a rather expensive sledgehammer for this particular nut.
Another option is the combined track pump and charge tank approach – like the Bontrager Tubeless Ready pump. This offers an all-in-one solution and adds portability to the mix but is not necessarily a cheap option, especially if you already have a track pump.
The BETO JetAir Tubeless Tyre Tank
Which is where the BETO JetAir Tubeless Tyre Tank and Inflator comes in. I stumbled across this product last year and have had it sitting in my garage for occassional use since around last April.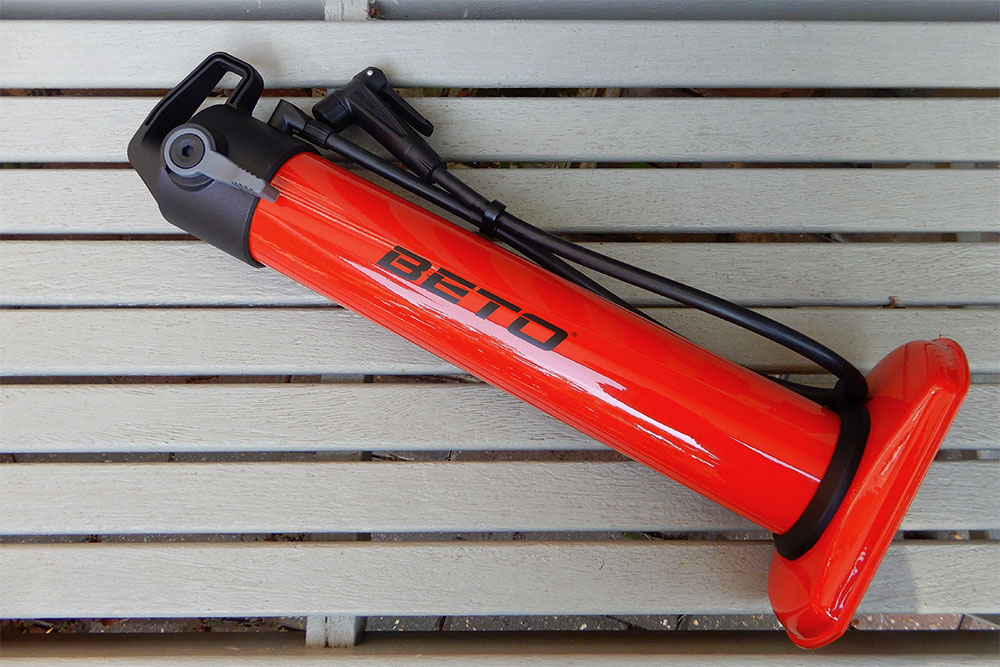 It's seen enough use for me to value it as one of those items that makes my tubeless life that bit easier (even with my WTB ST i25 tubeless experience, seating the bead was not a problem).
At the time I picked this bright (very bright!) red beast up for just £37 online from Tredz. It's a solid product and where normally I would be suspicious of anything that wins a Design Award, in this case I think it was well deserved.
The BETO JetAir splits the difference between cost and portability that a combined pump and charge tank provides, at the expense of a minor amount of faff in comparison.
To use, simply attach your existing track pump to charge the air tank (if you can get all the way to 160psi, kudos!). I find 140-150psi is sufficient in most cases.
Once pressurised, you attach the Schrader/Presta head to your usual tyre valve on the wheel and release the lever on the side of the tank. You should find that your tyre pops quickly onto the wheel rim.
I tend to start the release a little slowly and increase the flow as I see fit. I also usually remove the valve core to aid the ingress to the tyre – once the tyre has seated I have to do this anyway because I need to put the sealant in. I don't try and seat a tyre with sealant in situ; and I don't think that needs much explanation!
Overall, it's done the trick for me each time. If you have less than 140psi it can sometimes fail first time but that depends on the tyre and wheel combo really. I've seated road and MTB tyres of varying volumes and no problems so far.
I like the fact it's a solid bit of kit – the top carry handle is sturdy and the whole thing feels like it will last years. It's also nice to know there's a relief valve under the base. In theory you could charge the tank and use it as a reservoir for topping up tyres too (saves a bit of impromptu pumping) but personally I prefer to leave it unpressurised until I need it.
The only downside is it creates a little extra garage clutter (and I have a lot of that!) and needs a little extra space in the car if I need to take it on a road trip.
As a good value tubeless tyre seating option, I'd recommend it.