Well, that's stretching things quite a bit. It's more a case of specific pink components on my new singlespeed. OK, that's a stretch too, it's not actually new but some of the bits are! And those bits are pink.
Oh dear…
To our long suffering readers the idea of me building up a singlespeed bike is not a new one. Not by a long stretch, in fact I seem to have been talking about it for at least a year now. What stopped me was having the cash to do it since I also needed to cover the cost of a geared bike of some description to tow my boys on the tag along.
Well, having just celebrated a birthday I've now scraped what I needed to convert the Inbred to singlespeed status, thanks also to a generous donation of some old wheels and a doofer from Tony and a crank and singlespeed kit from Dave that has allowed my disturbingly recycled family of bikes to continue growing. By the end of all this I'll have three distinctly different bikes to my name.
But back to the Inbred. Really, it didn't need much to convert it, after all I'm ditching gears and gear here. But it did need a few specific touches and having noted in the past how nice a white bike with pink bits on it might be I decided now was as good a time as any.
So, onto the Inbred has gone a pink Salsa flip off seat clamp, a pink Straitline bash ring and a pink Superstar bottom bracket, mated to Dave's old Truvativ crank from his Inbred 29er. Out back, a conversion kit sees me adding an 18T ring and a heavy duty SRAM chain to handle all that torque, not that I tend to produce much of that anyway!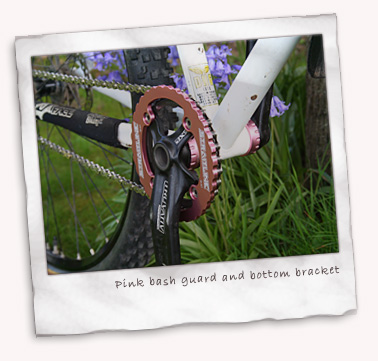 The pink bits look fantastic even if my fellow Moles think it's a bit weird. Actually, they're not alone, practically everyone I've spoken to to in the family thinks it's weird apart from my five year old niece who has the sense to see just how cool a pink seat clamp is… that's good enough for me.
When funds allow I'd like to go a bit further. With new brakes needed it would be churlish not to put some pink Hopes one there, complete with flower cut rotors. Hey, c'mon I'm secure enough in myself not to worry about these things, and discretely poncy enough to worry about whether things match!! If ever a pink camo saddle comes on the horizon that's going straight on there too.
My main worry is the Superstar bottom bracket. Dave in Cycleworks says I'll be back for a Hope one and I tend to agree, especially seeing as this bike is going to be rested for the summer and see serious winter use next season. If only Hope would oblige with a pink one, otherwise there's more saving for a Chris King to be done. For now, we'll see what happens and I'll report back.
With a Hope headset on there currently I couldn't find any reason to swap for a Chris King one either although again it gives the opportunity for more pinkness to appear. This may become a long term commitment to pink parts—and how wrong does that sound?
So there you have it, hopefully the start of a wonderful relationship (with more pink singlespeed pictures on Flickr). What I really need as mentioned many times in the past is some white RS Rebas up front to provide a bit more performance but I'm happy with the bike for now – the last 500 miles have been with it in geared guise and it's been a pleasure.
So what's happening to all the gears I've removed? Well, that's another story but it features a 1998 Marin Muirwoods frame, a Carbon Cycles carbon fork, the 2003 LX gearset, slick road tyres and V-brakes. Watch this space as I'll probably chuck on some knobblies and off-road it on a few summer rides too. I'm just waiting for a chainring and chain to arrive.