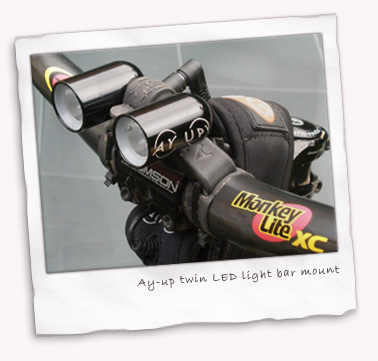 Since the early part of the Summer (did we actually have a Summer this year?) I've been using the MTB set up from Ay Up. After considering a raft of options and the mind-boggling reviews that can go with this particular area of biking paraphernalia, I settled for the Ay Ups because in my mind they ultimately provided an excellent balance of value for money and illumination on the trails.
Ay Up! Lighting are an Australian company and have been around for a couple of years now. In fact, and as the name suggests, their owner and designer hails from the Ribble Valley in Lancashire. The mantra at Ay Up seems to be to make no nonsense lights that are bomb proof, burn bright (with long burn times to boot) and don't cost the earth. They also have a UK distributor and website making the ordering process a truly simple affair.
As far as product line goes it's a pretty simple approach (why complicate things!). In fact each package is only really differentiated by the amount of light units you want and the subsequent batteries needed to power them. Ay Up currently produce three kits – a single twin light unit 'Roadie kit' for the commuter or for those wanting an auxiliary lamp to complement an existing setup; the 'MTB kit' which includes two twin light units with bar and helmet mounting and 12 hours of battery life; and an 'Enduro Kit' which is effectively the same as the MTB kit but with 24 hours of battery power.
The first thing that strikes you about the MTB package is that at face value you get a lot of bang for your buck. Two twin CREE XRE-Q5 LED units that produce a stated 320 lumens each, 2 x 3 hour battery packs and a 1 x 6 hour battery pack. Accessories also include a mains charger, car charger adapter, two bar mounts, helmet mount, spacers, bar fixings, zip ties, spare light fixings and a multitude of neoprene straps and cases to offer protection for your kit when it's on and off the bike. In fact the whole kit wraps nicely into a large neoprene bag when not in use. The only downside is I have yet to work out exactly how it all goes back together when not in use.
When you consider that all of this will cost you a snip under £250, it puts Ay Up firmly in the mix for those considering a competent off road lighting system.
The twin LED housings are light and small (in fact a lot smaller than I was expecting) and rotate independently of each other around 270 degrees. These come in a variety of colours to suit all tastes and both genders. They are also waterproof to around one metre which should mean they cope with any unexpected offs into the Mole! On the bar, the mount straddles the stem cap and is zip-tied into place. A little ugly and basic by some standards, but I've had no real issues with it. Either size of battery is mounted under the stem and held firmly in place by a neoprene strap.
The helmet bracket is attached via a sticky pad with zip tie reinforcements. A small rubber strap pulls over the interconnecting beam between each LED casing and attaches to a small plastic hook on the front. The battery pack is held in place by a velcro strap that passes through the vents. I've found I can tuck the excess wire from the battery into the velcro, minimising any opportunity for a low hanging branch to rip it out of its housing. All in, it's a very neat little bundle on top of your head and the extra weight isn't noticeable at all.
At 640 lumens, the light units are bright and effective. The 'intermmediate' beam angle of the bar mounted unit provides a good spread for on-the-ground obstacles, while the narrow beam on the helmet provides good penetrating illumination for what's further down the trail.
The more-than-adequate lighting is matched by very impressive burn times. The three hour batteries are at least that, with reports of them churning out enough light for four hours not unusual. Because of that I haven't needed to use the bulkier six hour battery, and may not need to until an Enduro of sorts next year. Each battery comes with a very hard to miss orange rubber on/off button, making it easy to cut the power when you need to. Off the bike charging is simple and relatively quick as two batteries can be charged at the same time.
So for £250 there must be some downsides? Well, only a couple of things have struck me so far. Should you need to invert your bike without the lights in situ, a hard surface can scuff the plastic mount, although this might not be the case if you are running two inch risers.
I run an Edge 305 fixed to my stem for a bit more stability and protection, which produces two issues. You have to pitch the bar mount forward of horizontal to allow room for the GPS to be engaged and perhaps more of a niggle, you can't run a GPS at night (with it mounted in that position) as the neoprene battery strap completely covers it. Pitching the mount forward isn't an issue as the independent rotation of the light casings compensates for its slight downward starting position and the latter is solved by putting a second GPS mount on my bar (Yes I know I could just put it there in the first place!).
Lastly, those running anything les than a 90mm stem may find the battery interfering with cables, but that will depend entirely on your set up.
According to the Ay Up website a couple of extras have landed for UK customers in recent weeks. Firstly a headband mount, which might suit those who do more than just riding at night (this comes as standard in the Enduro kit) and the new 'Gecko' helmet mounting system, which enables the complete removal of both light and battery mount when not in use.
The Ay Ups have been a revelation in the last few months. Opening up the whole new world of night riding for an outlay which, in bike light terms at least, is peanuts. And in the current economic climate I wouldn't be surprised if a few more of our breed don't see the light in the coming months.
More pictures of the Ay Up twin LED lights can be found on Flickr.
See beam shots of the Ay Up! LED lights in our MTB LED Night Light Test and Beam Shots article.