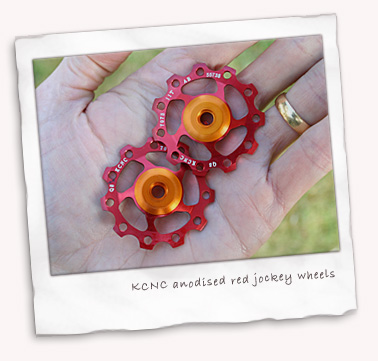 Anyone following my sorry drivetrain replacement saga of the past week knows that it was all really with one aim in mind. To find an excuse to fit some blingle blingle anodised red KCNC jockey wheels to my SRAM X0 derailleur.
Here they are in their pristine glory (with more KCNC jockey wheel photos on Flickr). I was a bit nonplussed at first when fitting them as it became clear (despite claims on the website) that there would need to be some tweaking for them to fit the SRAM X0 rear mech.
It was the first time I had dismantled the SRAM X0 cage and on removing the old jockey wheels I could see that though they had a bearing cover on one side, the carbon fibre back plate was doing the same job on the other. So I prised off one of the gold bearing covers and slotted in the KCNC jockey wheels, where they fitted perfectly.
Time will tell if the missing bearing cover really is an issue or not. Personally, I don't care as this must be the cheapest, most cost effective pimpage available at only £15 a pair! Seeing the way the jockey wheels now perfectly compliment my SRAM Red cassette makes it all worthwhile and straight out the box the shifting seems fine.
Available in a range of colours, I know at this stage I'm the guinea pig of the group. But if the performance is half as good as they look, expect to see some multi-hued gearage out on the Pitch Hill trails sometime soon!
I quite fancy a blue set for my 2003 Shimano LX groupset on my On-one which is an attractive blue-grey metallic and anyone running gold piston caps on their Hope brakes has to think about some gold jockey wheels to compliment them. Dave P was keen to know if you could mix and match and considering they come in individually wrapped packets I'd guess it's worth a phone call to Clee Cycles.
Green, red and gold… rasta baby!