Pace Cycles RC529 steel hardtail review

Lockdown has proven to be an expensive time for my cycling…

Despite too much time WHF looking at cycling YouTube video's, browsing eBay and considering new cycling purchases I have, contrary to my Moles knickname – 20bikesTony – cut down on the bike ownership with the help of my personal eBay guru, adviser and seller, DaveC. Thanks Dave!
Of course, moving on some bikes has left space for some others, so as not to break my better half's 'no N+1 bike' rule. One retro MTB bike has been refurbed and another retro MTB is on the way to being completed, all with too much lockdown time spent watching eBay for parts.
Also gone is my very lightweight XC Pronghorn hardtail. It was super-fast but a little steep in the steering for the technical riding which I seem to be doing more and more of on the profusion of steep twisty trails across the North Downs ridge. With lockdown winter looming I figured that I'd be riding MTBs more than other years and a LLS (that's Long, Low and Slack) hardtail replacement seemed to be just right.
Matt has a Bird AM Zero hardtail 27.5 which he alternates between raving about and telling us he's going to be swapping. It does seem to be a great bike but I really wanted a 29er (I do like the big wheels) and a steel bike.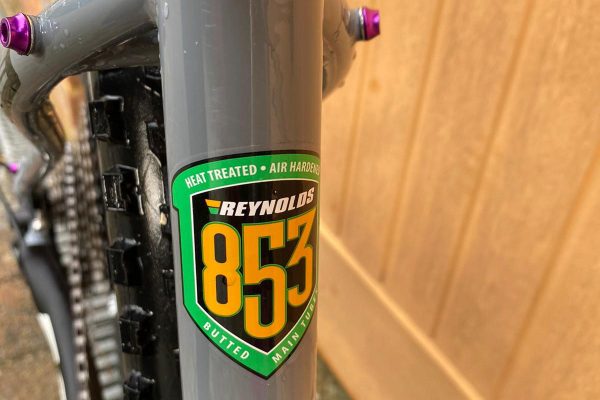 Why Steel?
Not sure really, I just like it as a hardtail MTB frame material in terms of the ride feel. So the Bird being Alu was out and I'm not a fan of titanium (seen too many broken Ti frames) so that was out too.
Fortunately there are a whole slew of new LLS steel hardtails to choose from, even if availability is another issue. Production Privee Shan, Ribble 725 (which looks great value and can be nicely blinged with anno parts), the new Stif Squatch, Stantons, Cotics and many others that I've missed out here.
Lockdown and the general issues of 2020 meant (#firstworldproblem alert) there were no test rides and actually my original plan of buying a frame and building up with parts of my own choosing went of out the window too, mainly due to the limited availability of groupsets. After watching lots of YouTube videos and reading as many LLS hardtail reviews as I could, I was drawn to the Pace Cycles RC529 in 853.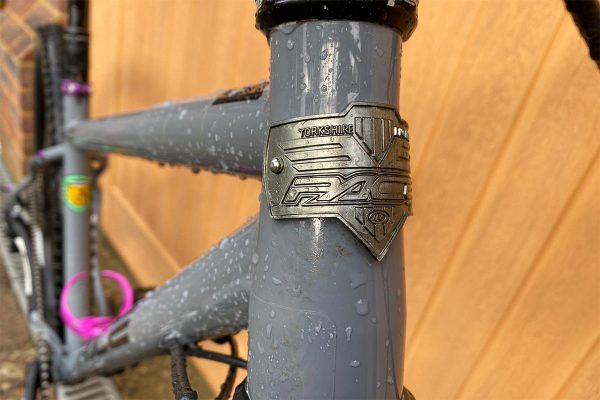 Why the Pace Cycles RC529?
Well it's certainly not the best value (I could have bought a reasonable full-sus for the same price), but the ride reviews were excellent and having ridden – but not owned – Paces back in the early days of MTB'ing I had a bit of nostalgia for Pace. Also it looks very nicely made and painted!
The decisions of which colour – Primer Grey – and which groupset – Shimano 12 speed – were fairly straight forward, not being a fan of SRAM brakes.
So, I paid my money and this being 2020, waited. After 5 weeks, being kept informed by the helpful Sophie at Pace, a very large box turned up and inside it was my Primer RC529 XT Ultimate.
Pace RC529 geometry
| Sizes | L |
| --- | --- |
| Effective Toptube | Size L645 mm |
| Reach | Size L484 mm |
| Stack | Size L646 mm |
| Head Angle | Size L65° |
| Seat Angle | Size L76° |
| Seattube | Size L450 mm |
| Chainstay (adjustable + 6.5 mm | Size L430 mm |
| BB Drop | Size L65 mm |
| BB Height | Size L305 mm |
| Headtube | Size L105 mm |
| Wheelbase | Size L1226 mm |
The RC529 is definitely LLS with a 65° head angle on 150mm Pike Ultimates and a 76° seat angle. It has a looooong effective top tube at 645mm and reach at 484mm, but is paired with a titchy 32mm stem which keeps things within the bounds of reason. 1226mm for the wheelbase means this is a Big Bike!
Spec includes a Shimano XT 1×12 full groupset (32T chainring, 11-51 cassette) and frankly huge 203/180mm rotors, 800mm Burgtec bars, a cable operated Bike Yoke dropper, Hunt Trail Wide wheels Boosted on both ends, Maxxis Dissector tyres and a Burgtec Cloud saddle.
The bike was good to go after fitting tubeless valves (included in the box) and a quick squirt of Stans fluid. I left the Burgtec adjustable rear dropouts in their most 'short chainstay' setting which meant the tyre was fairly close to the seat tube. If you wanted to single speed or hub gear the bike this looks like a great feature.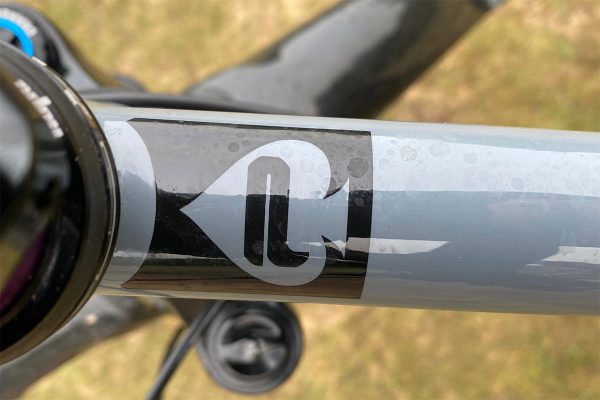 Initial impressions
Out of the box the bike looked great, in my view at least. Being in the wooded hills of Surrey meant the bars got chopped to 780mm. I added a bell, my favourite way of warning walkers and fork pressures were fettled to get my favourite compliant plush fork feel. Then the rides began.
The first thing to go was the Burgtec Cloud saddle which was soon knicknamed the Burgtec Impaler™. I know saddles are a personal thing and generally I'm not too saddle fussy, but the Bergtec Cloud was dreadful for me. Also the oddly short 165mm cranks had to go. I've ridden 165mm on track bikes before but it seemed to be just too short for me to pedal comfortably, so 170mm replacements were found.
The change of saddle also prompted a little bit of bling, added as a nod to those early days of MTB'ing when purple anodised parts were the coolest thing ever. Besides, purple looks good with the Grey Primer. So additions included a purple ano Hope seatclamp, Hope headset spacers, Burgtec top cap, purple highlighted SDG Bel Air 3 saddle, purple Hope floating rotors and a few extra purple ano bolts.
The first few rides with the Burgtec Impaler and 165mm cranks weren't perfect but the change to the new saddle and cranks made the whole riding experience far, far, better. Small things eh?
Riding some more
Once dialled in the Pace Cycles RC529 has been great.
For such a large bike with 29er wheels and slack head angle the bike climbs far better than it has any right to. There is so much traction, you can just sit down and spin up most climbs. Even climbs that I've struggled with on the full sus, like at the Windmill at Peaslake or the Haut Categorie C1 High Ashurst climb out the back of little Switzerland, have been ridden up on the RC529. The 2.4 Maxxis Dissectors must have helped too, at 22-23psi there is very good grip.
Going downhill? Well drop the 185mm of the seatpost right down, point and go.
It's never going to be as capable as my 150mm Specialized Stumpjumper full sus but it's pretty damn close. It rolls beautifully and for such a big bike, due to the short chainstays(?), it corners really sharply. The modern wide bars, short stem, Boosted hubs and chunky tyres mean you can really lean it into the corners.
The winter has been terrible here for mud over the last month (to be fair we had a superb summer of dusty trails in the Surrey Hills) and the RC529 has been up to its axles in deep mud, but its never clogged up. Sadly (from the aesthetic perspective) a Crud Fender XL and Mud Hugger XL have had to be added to keep me a semblance of mud-free, at least above mid thigh. In the mud, where full sus is largely pointless, it's kept me going out in the worst of weathers so far.
I really wasn't sure about this LLS hardtail thing combined with such a steep seat tube, but I'm convinced on the Pace RC529. It's been a blast so far!