Review: Mountain Mayhem 2012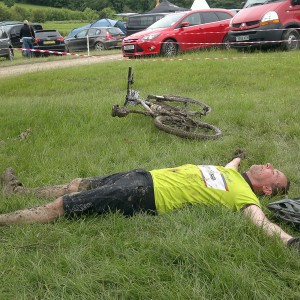 It wasn't quite the Mountain Mayhem I had hoped for!
Kev and I arrived at Eastnor around Midday on Friday to find that the ground was already massively waterlogged and getting to be a mud bath near the arena.
Areas near the road were a premium for camping and we had to move to Area 8 in order to get an area we though we stood a chance of getting off of again come Sunday. We taped off a suitable area for 12 riders and set up our tent.
With that done we set off to explore. Looks were exchanged again as we squelched across fields towards the arena and we made our way to the food tent to eat and sign in. Not much was open so we headed back to the camp but did stop by On-One who had most of their bikes out and had a quick look. Rain was now coming down so we hooded up and headed off.
Back at the tent we found problem number one as the tent was taking in water at an alarming rate. Kevin took it all in his stride and painted the air blue while I mopped up and tried to get hold of Al who was on his way down. Luckily I caught him at Bookham and he was able to head back to my garage and get the spare tent out. Day saved.
With little else we could do and the rain eased up again we thought we'd head back for something else to eat and to try and find Darren and Amanda. This we did and had a look at the bikes they had bought down from Haven Distribution (who Amanda was riding for in the female solo category).
Kenda was also now open and taking a packet of money on they tombola as everyone tried to win a set of tyres, probably King of Traction was the favourite! We had another look at the On-One stand, Kev seemed interested in the lighter Carbon frame while I talked to Brant Richards about the travel on the different sized El Guapo 29er frames. The latest Phat Bike was also there and I had a brief chat with Shaggy about it as he'd been riding the earlier prototype.
We headed back to the camp site and found to our horror someone setting up a tent with a camper also moved in. After some heated words it became apparent that short of a large stick we were stuck with the squatters. Surely it couldn't get any worse. Al arrived and the big tent went up but with the rain now set in even that was a chore and left us with a wet tent interior as his palace has a separate fly sheet.
PaulM arrived next with his camper and family and we got them in the lower section of the plot. We were now well defended!
I think I only got about 4 hours sleep with wind, rain and cold and by the time 8am came I was glad to be up and waiting for the rest of our teams to arrive. Slowly it all filled up and we were complete. Jez kept our team waiting and on tenter hooks as he was our nominated runner.
There was a kind of spirit around that I can only imagine (and no disrespect to the men who went through this) to be the Dunkirk spirit. We were all in it together and just got on with it. I was out second for Team 3 and as Matt (Team 1) stood in the corral we saw DannyP (Team 1 come through in about 1hr 30 mins including the run… shame the timing gate didn't see him!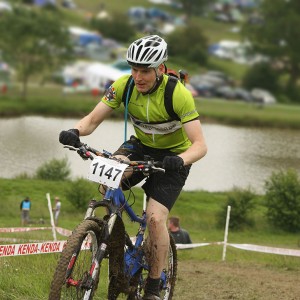 Photo: rOcKeTdOgUk on Flickr
Jez was in a little later and I took off trying to find what level of traction there was. No much was the answer. Still, I made steady progress and by the time I enter the first bit of singletrack I'd overtaken more riders than had passed me. This progress continued until the end of the notorious "sticky woods" (plasticine version also available) where the muck stopped my wheels from turning and took the chain off as well. As minutes passed while I tried to clear it and get the chain back on all my hard work was undone as riders streamed past.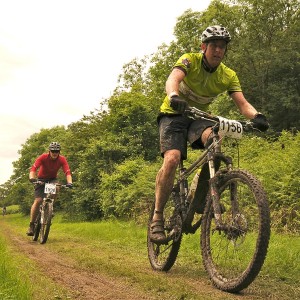 Photo: andy_carter on Flickr
After what seemed like an eternity but was probably in reality no more than 5 minutes I got things rolling again and decided to carry the bike to the next clear section. Rolling again I'd lost some of my mental fight and was just able to keep it moving as we headed down into the camping area. The mud was pretty bad here but the real kick came at the beginning of the climb out of the arena area, where traction was extremely limited. The long climb is a killer and I really regretted only having a 30:36 as my lowest gear although much lower and I might have spun the wheels more. I felt a wimp knowing that Al was pedalling his Ibis round 32:16. Time the MoleTFU.
Somewhere in the last quarter of the track MarkyMark caught me and went past soon following by another shout and Phil from Team Kinesis Movelo (I hope that's right) went past me. Phil used to be the mechanic in our local Cycleworks, top bloke! With the final descent ahead I clung on for dear life and hoped the tyres would clear of mud by the time I need to corner! One chap who I'd swapped places with a number of times was now ahead of me and suffering from cramp. In the swamp that preceded the finish line he had to pull over and I got my place back. 2 hours and 3 minutes I was back in and handed over to Andrew.
Heading back I heard rumours of severe weather from midnight and Jem sent me a text to confirm the rain was coming in heavy. I suggested that given the conditions we might want to sit it out and head out in the morning and there was general agreement. With that I popped the ear plugs in and passed out. Apparently sometime during the night a mud man entered the tent as Tony finished his lap. No photos have yet come forward but I was out for the count.
By 4:30am the wind had dropped and I could no long hear rain so I breakfasted on Belvita biscuits and other cereal bars before heading out around 5am. Kev apparently heard me and headed out as well, catching me in the first quarter of a lap. Conditions had changed and the grip was now in the really wet mud and the running water. Well, that was unless it was on a down slope and then there wasn't a lot of grip as I found out caking my left side in the goo. Sticky Woods 2, Dave 0.
I caught Kev up and stayed with him until the descent where he went away from me in what only can be described a true display of Dandy Downhilling. Not having Dandy's style or ability I let him go and trudged on at my own pace but the arena section was a bog. The climb up the other side was relatively dry but still hard work but the odd stop did allow me to marvel at the early morning, just washed, beauty of the area. The views were outstanding. One bedraggled rider I reminded of the beauty around us even smiled as he too took in the view.
Generally conditions over this side of the course were worse unless you could find flowing water and then you had a small reprieve from the grind. Somewhere I was talking to another chap who was "enjoying" his first MTB event in 12 years having previously done 11 years of downhilling. He also mention how beautiful the area was, maybe it was something that those of us up at that hour enjoyed! He obviously left me on the final downhill but I wasn't worried, I'd completed two laps (half the previous year) and had another event where I could smile wistfully and nod saying "yep, I was there".
I might give it another go next year, very little chance of getting me back to Thetford after 2010 though!
More pictures of Mountain Mayhem 2012 are available on Flickr.