Salsa Horsethief 3 review
As some of you will know, over the past month or so we've been running a Salsa Horsethief 3, courtesy of Ison Distribution. It's an example of the latest thinking when it comes to 29ers, that of the mid-to-longish travel full susser and has proved to be quite an eye-opener for me.
Dave's mentioned before that he has a thing for Salsas, not just because the Spearfish seems to work well for him but also due to the more boutique nature of their brand. You don't really see many of them in the UK, certainly not as many as other American brands like Santa Cruz and Intense and this adds a degree of mystique which isn't necessarily the case. In the US, Salsa apparently have big intentions to build their brand; after all, even Specialized were small once.
But for now, in the UK, small is good.
About the Horsethief 3
With plenty of bikes now setting you back a hefty chunk of money, it feels a bit odd to say that £2-2500 is a mid price for a bike, but really if you want a decent machine that's the sort of ball park you need to be looking at in 2013.
The Horsethief 3 falls near the middle of that, at £2300, and is pitched around the price point where people might be either upgrading to their first 'proper' full suss from cheaper bike-2-work alternatives, or for the person who wants a good value machine to complement other bikes in the stable, with the idea of upgrading over time. I know a few people like that…
The design of the Horsethief follows the Spearfish ethos quite closely, essentially being a single pivot bike with an additional linkage guiding the path of the rear shock and relying on some built in seatstay flex to provide some of that travel. The designers though are quick to claim it's a different beast, intended for more robust riding than the shorter travel Spearfish.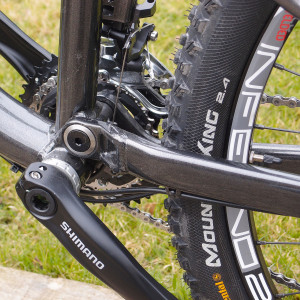 In all, there's 120mm of travel at the rear, controlled by a Rock Shox Monarch R rear shock, balanced with another 130mm at the front afforded by a Rock Shox Sector fork. The frame is intended to run up to 140mm of travel at the front if you really want to head in the gravity direction.
With full suspension 29ers the challenge is to fit in all that travel without the frame getting unduly long and 120mm is currently about as far as it's sensible to go. Bear in mind that those big wheels actually make the whole thing feel closer to a 26er's 150mm anyway. To make sure that the frame only moves in the way the designers intended, it comes equipped with an up to date bolt through 12×142 rear axle, a bolt through front fork and the to-be-expected short, tapered head tube. It's not as chunky round the head tube as a Santa Cruz Tallboy but it looks pretty stiff and is complemented by a decently sized, swooping downtube.
Of course every bike is a compromise in terms of spec, price and performance but it's good to know that the Horsethief 3 uses exactly the same frame as the top of the line Horsethief 1 which retails for a lot more dosh.
First thoughts
Dave was pretty clear from his initial riding of the Horsethief that he felt the OEM Continental Mountain King tyres were a compromise too far for him, but at least this is an item that will ultimately wear out and be replaced with something more sophisticated. I've recently bought some Mountain Kings in the Black Chilli version for my Five, so I hope they are an improvement!
With the rubbish weather we decided to run the Horsethief with a Bontrager MudX up front to try and find a bit more bite on the Surrey Hills clay, and this is the set up I ended up running.
First impressions for me were that the steering could still do with a bit of extra help, as we ran it back-to-back with Dandy up and down And Then There Were Three and Golden Nugget, with me swapping between his Tallboy and back again during the course of an enjoyable afternoon. There was no doubt at that stage that the Tallboy was a lot faster.
After a bit of thinking Dave, Dandy and myself decided we weren't being fair to the Horsethief, after all Dandy's bike has significantly more expensive parts bolted to it. Most importantly this includes a top end Revelation front fork and a high spec Fox rear shock. Even so, the Horsethief hadn't been that bad so after a bit of head scratching we decided on some cockpit tweaking, the sort any rider would do to tailor a bike to their taste.
First of all, we moved the spacers around to lower the handlebars by 10mm and at the same time we used a marginally shorter stem, again dropping 10mm off the length. That was all the changes we made, we left the MudX on the front and set off for Swinley.
How the Horsethief rides
What can I say? OMG! This was the first time I'd ridden the new, 'improved' Swinley and we covered both the Red and Blue routes. Our luck was in and not only was the sun shining but the already well-armoured surface was blessed with the kind of dry, dusty quality that made you want to push and push. And after a few turns to get used to the lower, shorter cockpit, that's exactly what I did!
I absolutely loved it. Swinley is now full of doubles and humps and lips that just make you want to fly off everything, masses of berms in all varieties and radii and the Horsethief was just a joy to ride round there. I felt held back only by my fitness to be honest, but even so set a string of respectable (for me) times on Strava. I knew that actually the MudX, in the bone dry, was holding back my performance but time and again I caught riders who I know are faster than me. Added to which, the bike helped me out whenever I messed up on doubles and stuff. I never felt that I'd over stepped it's abilities and it proved solid and stable under duress.
I came away thinking – or wondering – if my Five could have gone any quicker and have started to come to the conclusion that the answer, regretably, is probably 'no'. I'm quite shocked by that really and while I've been spending money recently returning the Five to full showroom-fresh working order I'll be very interested to take it to Swinley for comparison. That bottomless feel of a longish travel 29er was quite addictive and I can see why people are switching to big wheels in droves.
It seems to me that the Horsethief 3 is a pretty good bike. It definitely needed careful thought on the riding position and really rewarded a short stem, wide bar set up. If it was my own I'd ditch the saddle for something else too, as the WTB Pure V, while comfortable, became a bit of a wedge after a prolonged period of riding. But that's just personal taste.
Upgrade options
Another area that would reward upgrades over time would be the rear shock, which doesn't have a platform and responds best when you have a smooth pedal action. Grinders might benefit from something with more platform but that's only an issue climbing really.
Initially – before we hit on the cockpit adjustments – we put the steering problems down to the Sector fork, and while you will always get a benefit from an upgrade here I'm not sure I would rush to change it unless weight saving is a big issue for you. A Revelation is probably about 20% lighter, and more expensive forks would work better, but you have the law of diminishing returns to take into account. I'd wear out the Sector first I think, which might prove tricky to do if you look after it…
A final area for your upgrade pennies might also be the brakes. I've run Avid Elixirs for ages and actually like them a lot, but having sampled Dave's Shimano brakes recently I think there would be another gain there. Further cockpit adjustment to get true one-finger braking would also help and we didn't do that while we had the Horsethief. It would be an easy tweak to make which I wish we'd tried, because at no point in my riding did I feel under-served by the Elixirs. Quite often small changes pay big dividends so it would have been interesting to explore this.
The Horsethief in summary
There you have it then. For my riding style I would be happy to say the Salsa Horsethief 3 is a great proposition and I thoroughly enjoyed riding it. I'd love to try it on longer cross country runs as it feels like it could be a useful mile-muncher; the frame feels like a pretty versatile tool and for me to catch people downhill who I know are faster says it all.
If you owned one I think the Horsethief would provide a lot of enjoyment, especially as in the UK in particular single pivot bikes make a lot of sense in the long term (remember I normally ride another single-pivot bike, the Orange Five). It would also reward sensible upgrades as time and money allowed.
Don't forget you'd also be riding a bike that the cognoscenti (and Dave!) will recognise. You don't always need plaid handlebars to be different. A last thing: as I was pushing the bike back to the car at Swinley I overheard one rider say to his mate 'Now that's a nice bike… I really love those Salsas!'
Photos of 'our' Salsa Horsethief 3 can be found on Flickr.
You can also read our initial summary of the Salsa Horsethief 3 and our first impressions of the Salsa Horsethief 3.
The Salsa Horsethief was loaned to us by Ison Distribution, free of charge for this review.