Specialized Pathfinder Pro 700x38c tyre review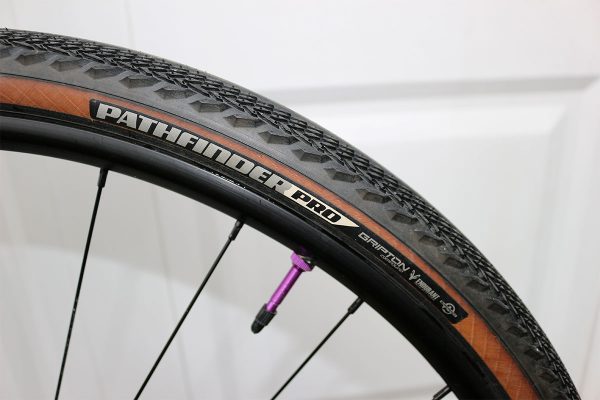 Since fitting a pair of Specialized Pathfinder Pro tyres to my Cannondale Topstone gravel bike I've put 2700 miles on them. Long enough to form an opinion at least!
I've been mulling over this tyre for a while now but after yet another mixed surface gravel ride in the depths of a wet and muddy UK winter I decided now was the time to put fingers to keys and type up my thoughts. TL:DR? It's a game of two halves, if they suit your riding you will be happy.
Background
My Topstone 105SE came with WTB Nanos in 700x40c. They did not prove to be a success, a combination of Muc-Off sealant and flexy sidewalls did for them and they never really sealed to the point I felt confident in them. Plus you know… they are basically old MTB treads from the '00s and before, scaled down.
In hindsight, Stans fluid was the way to go and WTB have now brought out a version of their tyres called SG2 which has a better air seal; despite that, the Nano isn't the tyre in WTB's range I'd opt for. I always felt they offered a great ride, lots of grip but a little too much drag for me.
So, new tyres then
So I needed new tyres. After about 1500 miles of regular commuting I was also coming to the conclusion that a tyre better calibrated to tarmac use would suit the Topstone better. My commute is probably 80% of rough, scabby tarmac with about 20% of sloppy muddy trail over a solid base. In the summer, it's a loose sandy trail over a firm base!
That knowledge meant I was looking at a 'fast' road-focussed gravel tyre, not just in its' tread pattern but also width. I found the Topstone plenty comfortable as it was.
After a bit of internet-sleuthing I settled on the Specialized Pathfinder Pro in 38c width.
The Specialized Pathfinder Pro features
The Specialized Pathfinder Pro is a 120tpi tyre which would suggest a supple ride and is tubeless ready as you'd expect. It's quite competitively priced – you can pick these up for 35-40-odd quid (GBP).
The casing includes an Endurant construction and Blackbelt protection. I think that means the sidewalls are reinforced and the face of the tyre has a layer of puncture protection!
Both tanwall and black casings are available, but it should be noted the tanwalls are a darker shade to what you might normally expect and the colour doesn't extend all the way to the bead.
I like tanwall tyres on gravel bikes but this aesthetic with the darker tan is not quite to my taste!
The Pathfinder Pro also uses Specialized's Gripton compound, which Specialized claims offers lots of grip while being fast rolling, with the size options covering the bases from 650Bx47, to 700x38c, to 700x42c. I opted for the 38c given the tarmac diet my Topstone has.
What really interested me though was the tread pattern. The Pathfinder Pros have a smooth central strip, flanked by rows of small, low profile sawtooth side knobs which become marginally more pronounced as the tread nears the shoulders.
The basic shape of the knobs is an uneven rhomboid across the direction of travel for three or four rows (depends on the tyre size), then a row where the knobs lengthen and align with the direction of travel, then a final row of larger knobs which flare away from the center tread. At no point is the tread more than two or three millimeters deep.
Basically, this looks like a fast tyre that is prioritising tarmac, smooth hardpack or fine gravel.
How does the Pathfinder Pro ride?
My wheelset on the Topstone uses WTB i23 rims, a solid choice with a 23mm internal measurement but certainly not a lightweight wheelset. Serviceable, I would say.
I set the Specialized Pathfinder Pros up tubeless and as you would hope with tubeless ready rims and tyres they went up very easily with the help of my air booster (Beto Jetair). No problems there and the Pathfinders hold air very consistently, using a sensible amount of Stans fluid.
This is probably a good time to say that in my opinion Specialized recommends some crazy tyre pressures for this tyre.
Specialized suggests 50-80psi for both the the 700 series tyres… which is… pretty high! I did try running the tyres at 50psi just to say I had, but OMG! It was like riding on a pinball machine.
The Pathfinder Pro tyres at 50psi totally destroyed the ride qualities you would expect of a bike with 38c boots. Hard and only reasonably fast on the road, absolutely horrible off-road, even on smooth sandy surfaces. There was Just. No. Grip. I couldn't imagine putting them up to 80psi!
Not only was the ride awful, but the steering on the road did not inspire confidence either. The Pathfinders felt fine on the straight ahead but as soon as you turned or leant the bike over there was a moment of – nothing! It felt like the transition off the smooth rubber onto the actual tread gave you a moment of no grip at all. It didn't make the bike slide but did make you think it was going to let go, especially if the road was damp.
The thing was, I felt the suggested tyre pressures were baloney from the start.
I would always recommend you follow the manufacturer instructions but in my case I decided for once to ignore the manufacturer and experiment for myself. I was worried that the tyre may become unstable or roll off the rim but for me the tyres seem to work well at lower pressures.
How I optimised my Specialized Pathfinder experience
Once I had decided to experiment, I dropped the tyre pressures – in small steps at first but then increasingly more so until I reached a balance I liked.
After 2700 miles of riding I think I am now at a decent sweet spot for me. That has turned out to be about 36psi at the rear and 33psi at the front. I think I could go lower (I've been as low as 30psi at the front) but would suggest a tyre insert to protect the rims and of course it depends on where and what terrain you are riding.
The effect of dropping the pressures has been threefold.
First, the steering vagueness has greatly reduced to the point I no longer think about it. It's probably still there if I do think, but I have never once felt anything approaching a slide so that's a win for me. It could also have to do with the tyres bedding in but whatever it is, the steering is fine.
Second, the overall grip has been very good with the lower pressures. I can still maintain a decent road speed of about 15-16mph over longish rides but can feel the effort on tarmac. That may just be the trade off from pushing a 25lb+ bike with full mudguards and wide bars though.
Off-road the grip has consistently surprised me, even in loose conditions. I don't throw the bike around but it steers confidently and if the surface is firm like wet sandstone or solid gravel I have no worries. If the mud is deeper, of course there's a limit with the Pathfinders, but it will take you longer to get there than you think, with no surprises. I mean, they are semi slick after all!
Finally, dropping the tyre pressures has helped the ride but I would say this is my biggest criticism of the Pathfinders.
The ride in some ways at 33-38psi is very good, certainly on tarmac where rough roads just seem to disappear under the bike. However, running into bigger holes soon makes itself felt and again, off-road as soon as you encounter roots or pattery surfaces you feel it through the whole bike. These tyres are at their best on cinder paths, compacted gravel and firmer surfaces where their speed and grip works to their advantage.
I suspect the 42c version of the Pathfinder might deal with things better but ultimately I concluded the Pathfinder probably just has very stiff sidewalls. This hurts not only the ride but ultimately grip. A more supple casing would probably work wonders because I feel the rubber compound and tread pattern are a decent trade-off for brisk riding.
In summary
In summary, I would say it is harder to choose a gravel tyre than any other kind of tyre.
Road tyres don't require a lot of thought – it's a case of how much weight do you tolerate for grip and puncture protection. MTB tyres are harder – what terrain do you ride and how do you ride it? But gravel is a different issue.
With gravel riding, you need to decide how much of your riding is actually 'gravel' (being a cipher for 'not tarmac'), then choose something that gives a balance of grip, weight and ride that suits your particular needs.
If your riding is mainly tarmac with short linking sections of stable off-road surfaces and hardpack I think the Pathfinders have a lot going for them. The fact I've managed 2700 miles speaks for itself and I've had some great rides on them.
During that time I've had just one puncture on the Pathfinders that needed a tubeless plug and the tyres still look pretty much as new, with no obvious wear to the tread at all. In my view, that's a pretty decent outcome.
I started out think my riding was 80% tarmac and 20% on a hardpack-type surface; but as commuting has faded, and lockdown exploring has taken it's place my off-road on the gravel bike has become much more varied. I am constantly amazed at what these bikes can do and the variation in routes available.
I still spend most of the time on tarmac, but would like a more compliant ride off-road to handle terrain that's a little more unpredictable. That might simply come from a larger casing, but my next tyre swap – when it comes – is going to be far from easy.