Call the Sheriff, there's a Horsethief in town
As rider of fine and select 29ers, one of my favourite bikes is my Salsa Spearfish. Time to saddle up and try the big brother, the Salsa Horsethief.
The Horsethief immediately looks more purposeful that the Spearfish. Chunkier tyres (Continental Mountain King 2.4 – I think that denotes inches and not kg, but I'm not sure!), with tyre clearance to match, longer travel front and rear with a bolt through rear axle and a darker, meaner paint job.
What we have here is a Horsethief 3.
2013 Salsa Horsethief 3 specification

| Component | Spec | Component | Spec |
| --- | --- | --- | --- |
| Frame | Horsethief 3 Aluminum w/ Thru Axle Rear | Headset | Cane Creek 10 ZS44/56 |
| Forks | RockShox Sektor, Tapered, 130mm travel | Bars | Salsa Pro Moto 3, 11-Degree |
| Front mech | Shimano SLX HDM | Stem | Salsa Pro Moto 3 |
| Rear mech | Shimano SLX | Seatpost | Salsa Pro Moto 3 |
| Shifters | Shimano SLX 3×10 | Saddle | WTB Pure V |
| Front brake | Avid Elixir 1, 180mm rotor | Pedals | Riders' own |
| Rear brake | Avid Elixir 1, 160mm rotor | Rims | Sun Inferno 28mm |
| Chain | KMC X10 | Hubs | Salsa 3 by Formula (Front: 15mm Thru Axle, Rear: 12x142mm Thru Axle) |
| Cassette | Shimano Deore 10-Speed, 11-36T | Rear Shock | RockShox Monarch R, 7.5×2″ |
| Chainset | Shimano Deore 24/32/42T | Tyres | Continental Mountain King II 29 x 2.4″ |
That's not too shabby a specification for £2299.99.
The key differences I am hoping to look into are;
whether the bolt through rear is really noticable (12x142mm)
can I notice the extra 5mm on the chainstays (460mm)?
how the slacker head angle compares (the Horsethief is about 69 compared to 71 on the Spearfish)
Over the next few weeks I and a few other Moles will be riding this Horsethief around the Surrey Hills to see how it fares.
Obviously if you've read this site for any period of time you'll know I like my 29ers and also like to keep things simple. Single pivots in the Surrey mud (dust? We have had dust in Surrey in the last 12 months haven't we?) are a must for me, as I'm not keen on bearing replacement and having done two sets of wheels and bottom brackets in the last month anything that makes life in the workshop simple is a plus.
The other clear winner for me is vanity. Until recently I'd only run into another Spearfish at a major event… oh hang on, that was the importers! Exclusivity rules here! I know there is another Horsethief in the Surrey Hills as I've read about it on MTBR, but I've never run into it, whereas Santa Cruz are like the Ford Mondeo of mountain biking here in Surrey, especially since allegedly their biggest UK retailer resides here. I suppose Orange fits this description too, but they get a pass on single pivot design and massive mud clearance.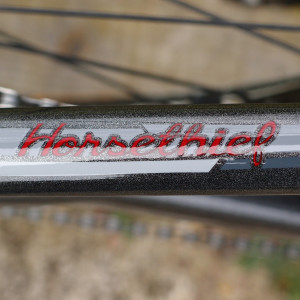 The set up as delivered isn't a light option. My scales put it at a shade over 31lb without pedals and I guess that points to it being more of a gravity device than something to take out for an all day ride. Then again, I've already hinted that this is a more purposful weapon than the Spearfish.
That about wraps up my introduction and the next post will have my ride impressions.
For now there are more photos of our Salsa Horsethief 3 on Flickr.
If it's tickled your interest nodules, there's more information on the Salsa main site.
The Salsa Horsethief was loaned to us by Ison Distribution, free of charge for this review.
You can also read our first impressions of the Salsa Horsethief 3 and our final review of the Salsa Horsethief 3.