Trek Fuel EX 8 2009 review

Buying a new bike is often a slightly nervous time. It's a big financial decision for most of us and you want to get it right. Have I picked the right model? The right size? the right spec? Even the right colour?
Well I've now had my Trek Fuel EX 8 for two months and after numerous of rides around Surrey and two trips to South Wales finest trails I have no doubts that the Trek Fuel EX 8 was a very good buy.
Like most of us I guess that my new-bike-decision-making process is a mix of pouring over new bike reviews in the MTB mags, bike fondling at the LBS, nabbing rides of mates bikes and maybe even attending a demo day. The Trek Fuel EX 8 got good reviews and was on the top of my bike list along with a few usual suspects, the Orange 5, Specialized Stumpjumper FSR, Commencal Meta 5.5, Lapierre Zesty. All 4-5inch full sussers which fitted the bill for my requirements of a bike for the more gnarly Surrey tracks and frequent trips to the South Wales MTB centres.
The only ones I could get a test ride on were the Orange (thanks Matt), Trek and Specialized, so the Commencal and Lapierre were out of the reckoning – well, would you buy a bike without riding it? The Orange was next out since my bike shop owning friend Guy at Pearson Cycles couldn't source one, which was a pity since I'm a big fan of Orange.
That left the Trek and Specialized. Both are good bikes but the Specialized just didn't do it for me, plus for my size Trek did an 'in between' size 17.5 – 18.5 – 19.5 that was just right for me.
Then it was the delicious business of looking through the specs for the right model. The choices for me were EX 7, EX 8 or EX 9. The EX 7 is good value for money but I wanted the Fox Float on the EX 8 rather than the Rockshox Recon on the EX 7.
The EX 8 seemed to be the right one for me, with a Fox Float front fork, Fox RP2 rear shock, plus SLX drivetrain, Juicy 5's and mainly Bontrager in-house finishing kit the spec had no weak points that I could see. On the other hand, the EX 9 was another £450 for an XT drivetrain and a few small shock upgrades. This was the point where the law of diminishing returns was too much for my pocket. Most of the recent drivetrain reviews report SLX being too close in performance to XT to justify this expense.
Lastly, the all-important colour choice – would it be black and white or 'Root Beer'. Root beer is a strange orangy-brown and although Colin has gone 1970's British Leyland retro with his Dialled Alpine, for me this was the easiest decision of the whole bike buying process. No way was I having root beer!
Getting the EX 8 back home I showed the bike to my five year old. His reaction was 'Dad, cool bike – that's what a Clone Trooper (Star Wars) would ride!' It has to be said, aesthetically Trek seem to have got this bike just right. I've had lots of comments about how good this bike looks and no negative comments (or you Moles have been too polite!) and more than one person has asked me if it's carbon rather than aluminium, I guess due to the high level of tube manipulation.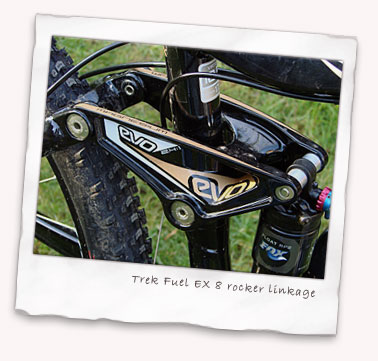 In fact Trek seem to have upped their game right across their ranges in terms of bike looks. The best bits for me on the EX 8 are the sculptured magnesium linkage, which looks like it could come from a far more expensive bike, plus the rear drop out pivot which cleans up the whole dropout area. Although the legend 'free floater' on the non-drive chainstay – lets be polite – probably hasn't traveled across the Atlantic with the same meaning. It does give me a chuckle every time I ride it.
Talking of ride, how does it ride? Well after only one ride fettling shock pressures (easy with the super neat sag gauge) and bedding in the Fox Float, it's been excellent since then. The suspension seems to soak up everything I can throw at it with my abilities. Supple, comfy, rigid, with no peddle bob to speak of (I never switch on the pro-pedal off road), I've never felt the suspension seem to bottom out.
What more could you ask for? Well it seems to climb very well too (or at least it did whilst I waited at the top of all the climbs for everyone at our recent trip to Afan and Cwmcarn) and descends to a point that I felt in complete control and as fast as anyone on the South Wales trip on the downhills. It's only a shame that I fell over and banged my knee in the Afan carpark, but that wasn't the Trek's fault, just the idiot on it!
As for negative points, well if you have read my Slime Lite tube post you will know that 'tubeless ready' could be a contravention of consumer law. Plus the Jones XR 2.3 tyres, although fast and fairly grippy are definitely a tyre for faster hardpack than February in Surrey. Otherwise apart from a change to my favourite saddle and the addition of a nice shiny bell, I've made no changes – unusually for me.
So if you are looking for a 4-5inch full susser, then I can heartily recommend the Trek Fuel EX 8. Although with the 2009 model consignments mostly sold out and new imports likely to be hit by price increases, you'd best get them quick.