Yesterday I phoned Cycleworks and it seems that my new Orange Five is on its way. Well, its due to be painted this week anyway so I hope that's the case. A combination of a custom colour and unprecedented demand for the Five after MBR's 10 out of 10 review (PDF file) has left Orange struggling to keep up with demand.
Since I've specced the new bike with Mavic 819 UST (tubeless) rims I've realised that the biggest risk I face is cuts to the tyre sidewalls, especially with our flinty Surrey singletrack. Taking the unusual step of planning ahead, I've made myself a tyre boot that I can press into service in an emergency. Cycleworks recommend that you carry a spare inner tube anyway so this really is a contingency for extreme tyre damage.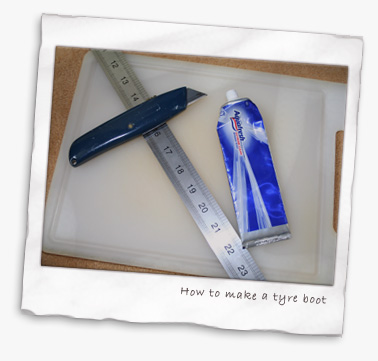 What you will need
Feeling a bit like a Blue Peter presenter, here's what you need:
An empty toothpaste tube
A sharp knife
A chopping board
A straight edge (I've used a metal ruler)
You could conceivably dispense with any of the items above, with the exception of the toothpaste tube but it would make the process a lot slower and considerably more interesting.
How to make a tyre boot: Step 1
Anyway, first, cut both ends off the toothpaste tube. I'm using Aquafresh Extreme Clean, figuring the word 'extreme' in the title lends a suitably rugged air to my tyre boot.
How to make a tyre boot: Step 2
Next, you need to cut the toothpaste tube down its length and open it out.
How to make a tyre boot: Step 3
After that, its just a question of cleaning it up and stashing it in your Camelbak for when you need it. I was particularly pleased that I managed to complete my tyre boot without removing any of my fingers, as you can imagine. I know bike testers like to talk in terms of one finger braking but I'm not keen to put the theory into practice.
To use, just pop inside your tyre between the inner tube and carcass. The pressure of the inner tube should hold it in place although you can always carry a tube of SupaGlue if you want to be sure.
That's it. You now have a tyre boot which will effect a pretty good trailside repair to get you out of a fix, as well as giving you plenty of opportunity for quiet smugness to help mitigate the fact that you've just trashed a £30 UST tyre!
Original photos are available in my How to make a Tyre Boot set on Flickr.