Gore Bike Wear Phantom Plus II jacket review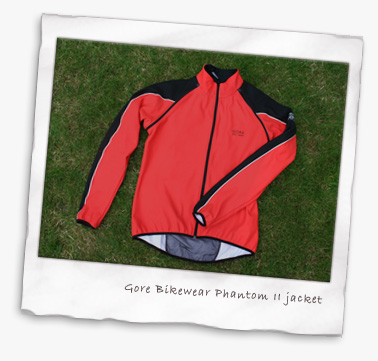 We're always on the lookout for decent cycling jackets.
With cycling being a more vigorous exercise (even for us) than walking or hiking means more heat generated and inevitably, sweat. Venting this and letting the body breathe is a tough call on traditional outdoor clothing and when you throw in a certain amount of ruggedness to guard against bike abuse its easy to see why most manufacturers end up striking a balance between the two extremes – light and airy at one end and tough but clammy at the other.
I'm not going to pretend that with the Gore Bike Wear Phantom Plus II jacket (phew!) Gore have found any kind of Nirvana, but three of us have been running this jacket since the turn of the year so can now give some feedback on how it performs.
First, the details
The jacket is made of Windstopper N2S fabric which is designed to wick moisture away from bare skin, so it's reasonably tight fitting in most places. It has a further panel on the back which is a kind on stretchy nylon material to help heat dissipation as well.
Pockets are few and far between, with only a zip pocket on the back so it might not appeal to those who like to carry the proverbial kitchen sink around but these days that's what Camelbaks are for. Seams are untaped, so although the N2S fabric is not only windproof but reasonably waterproof as well, it's sold as water resistant only. There's a straight forward zip up the front which doesn't have any frills to it – no waterproofing or sign of a zip garage although it does zip up quite high.
But the real beauty of this jacket is that you can zip off the sleeves, leaving you with a short sleeve jacket that happens to be windproof where it counts – on the torso giving the real possibility of use as a three season jacket.
How is it in use?
This jacket has pretty much become our staple top for most of this year. Cold weather running isn't too bad, as you can easily fit an extra layer or two under the stretchy material although most of the time through our mild (and dry – remember that?) winter I just wore a Helly Hanson base layer under it.
Through spring and the early pseudo summer I just unzipped the sleeves and ran it either with or without the base layer depending on the weather whilst still getting the benefits of wind proofing on chilly mornings.
I've even used this as my main waterproof in the recent wet weather. It's always been nice and unobtrusive, never feeling bulky or inflexible but it has to be said that waterproofing isn't really where it performs best – it can get overwhelmed especially if the ride is wet throughout. Having said that, it dries quickly and the windproofing keeps you warm anyway.
The only real downsides are that primarily it doesn't offer any underarm vents so on those days when it turns out warmer than you thought you can end up sweating quite heavily unless you want to stop and take off the sleeves. This isn't always the work of a moment as the zips used are quite small.
Another factor is that this jacket doesn't offer any thermal protection so if you are wearing it on a coldish day and you stop for an extended (cake fueling) time you can quickly radiate away all that lovely heat you've generated. This is not helped by the back panel I've mentioned which is not windproof – once you've removed your Camelbak you can get cold pretty quickly.
Overall though, this is a very versatile jacket which performs well for a good chunk of the year and has a discretely low profile even if like me you go for the Fireball Orange number. Other moles have the muted grey version which I may have gone for too if Cycleworks had any left, but as it happens I'm pleased with my choice as it is not only highly visible to other road and trail users but coordinates nicely with my blue Orange Five!
I've put some photos on Flickr if you want to take a look at the astonishingly long named Gore Bike Wear Phantom Plus II jacket.